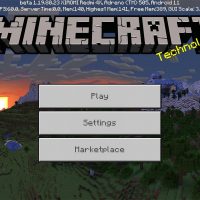 Minecraft PE 1.19.80.23
Minecraft Cherry Biome
Download
Download Minecraft 1.19.80.23 with a working Xbox Live: travel the cubic world in search of a new mob or unique artifacts and unusual materials.
Minecraft 1.19.80.23: Trails & Tales Update
Every user is looking forward to the appearance of a new version of the cubic world to evaluate the changes that the developers of Mojang Studios have prepared for them. In Minecraft PE 1.19.80.23, a crash related to aiming at the moment of teleportation has been fixed.
By the way, the appearance of prompts when the user uses touch control has been improved. There are many more interesting and unusual things waiting for players in the upcoming large-scale Trails & Tales Update, so it is worth keeping a close eye on the news.
Sniffer
The most important thing that a player should know about this creature is that it is harmless and can help find unique seeds in Minecraft 1.19.80.23. The fact is that it feeds on them and if players follow the Sniffer, they can pick them up and plant them in the future.
A beautiful and unusual Torch flower grows out of them, which is used for breeding these creatures.
Armor
Users can make the player's appearance memorable and unique thanks to a new feature that has already appeared in Minecraft PE 1.19.80.23. But to start the process will have to work hard.
First, players will need a special Smithing Table. After that, go in search of templates that can be found in almost all structures of the cubic world.
Excavation sites
Because developers continue to develop Archeology, new blocks, and artifacts have appeared in Minecraft PE 1.19.80.23. Players can now go in search of them not only in the desert but also in underwater biomes.
By the way, in this version, in addition to Suspicious sand, a similar version of gravel appeared. This activity is a great way to have fun, as well as create something unusual and even unique.
What items are used in Archaeology?

How to breed a Sniffer in Minecraft PE 1.19.80.23?

The player will need a Torch flower.

Where in MCPE 1.19.80.23 can players find Smithing Templates?

In almost all structures.
download anchor
Download Minecraft PE 1.19.80.23