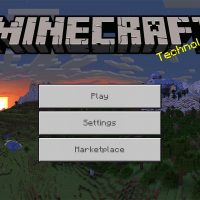 Minecraft PE 1.19.73
Download Minecraft PE 1.19.73
Download
Download Minecraft PE 1.19.73 with a working Xbox Live: use the new features of various blocks, use them to create vibrations.

What is new in Minecraft 1.19.73?
This time, the developers of Mojang Studios not only fixed previously identified errors but also added a lot of new blocks and elements to the game. First of all, the Calibrated Sculk Sensor appeared in Minecraft PE 1.19.73.
It cannot be found in the natural environment, but only obtained by crafting. This will require 1 Sculk Sensor and 3 Amethyst Shards. One of its sides is capable of catching Redstone signals, and it can also filter vibrations by frequency.
New opportunities in Archaeology
The large-scale development of this fascinating activity continues in Minecraft 1.19.73. Thus, suspicious sand and gravel will appear in the underwater world. And players will also be able to explore a new structure called the Trail Ruins.
This structure is so ancient that it is no longer known how many years it has been underground. Also, to the already existing 4 clay fragments, 16 more will be added in this version. They will be distributed among all five archaeological locations.
Do not forget that it is necessary to clean the blocks in which they are stored with a special Brush, otherwise, the blocks will collapse and the player will not receive valuable artifacts. By the way, the extracted items must be correctly detected from the blocks.
Cherry Grove
In this amazingly beautiful and picturesque biome, players can not only enjoy nature but also collect petals that have fallen from trees. They are used to create a dye.
It is noteworthy that in Minecraft PE 1.19.73, particles have been added for them. And they also make unique sounds when the player collects them. In Trails & Tales Update, further development of this location is planned, so users should pay close attention to it, there are many more interesting things waiting for them.
How many clay fragments appeared in Minecraft PE 1.19.73?

What structure for Archaeology was added to MCPE 1.19.73?

What do I need to create a Calibrated Sculk Sensor?

1 Sculk Sensor and 3 Amethyst Shards.
Download Minecraft PE 1.19.73