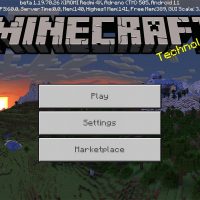 Minecraft PE 1.19.70.26
Archaeology and Sniffer
Download
Download Minecraft PE 1.19.70.26 with a working Xbox Live: explore new features of the cubic world, find a lost artifact in the sands, and grow new plants.

What is new in Minecraft 1.19.70.26?
Several important and useful changes have appeared in Minecraft PE 1.19.70.26 and they are all extremely interesting and important for the gameplay. Firstly, players can now become real archaeologists who will spend time searching for ancient things.
By the way, you can get acquainted with an unusual creature, which has now become a full participant in the game. Also, due to camera failures, the developers of Mojang Studios temporarily removed the reduction of the player's height to 1.5 blocks during the squat.
Be careful, you can disable squatting while in Powder Snow by simply releasing the corresponding button.
New Mob in Minecraft PE 1.19.70.26
This new inhabitant of the cubic world belongs to friendly and harmless creatures and at first glance may seem useless. But if you take a closer look at the Sniffer, it becomes clear its main role.
The Mob has a fairly large size and in adulthood, it is larger than Steve. Finding seeds in the ground that he feeds on, he often loses them himself. Thus, contributing to the cultivation of new plants.
By the way, in Minecraft 1.19.70.26, the player himself can follow the animal, pick up these seeds and plant them in the future.
Archaeologist
As you know, at the moment the player can be a gardener, raise bees, build a farm or a house, as well as extract valuable resources in caves or mines. A new activity that is proposed to be mastered in Minecraft PE 1.19.70.26 is no less exciting.
It involves searching for ancient fragments in the sands. If the heroes want to join the world of archaeology, they just need to go to the desert. Near the temple, you can notice the excavation site, where, according to legend, there are interesting objects.
What abilities does Sniffer have in MCPE 1.19.70.26?

What new activity can Steve master?

In Minecraft PE 1.19, this is archaeology.

Where is the excavation site?

Near the temple in the desert.
Download Minecraft PE 1.19.70.26