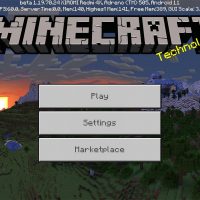 Minecraft PE 1.19.70.24
Archaeology and Sniffer
Download
Download Minecraft PE 1.19.70.24 with a working Xbox Live: get acquainted with the features of the new inhabitant of the cubic world and try to find an unusual block.
What is new in Minecraft 1.19.70.24?
Every user can say with confidence that the changes that appeared in Minecraft PE 1.19.70.24 were very welcome. The players no longer hoped for the emergence of a new type of activity – Archeology. But the developers decided to please them and now you can fully immerse yourself in the mysterious world of searching for antiquities.
But the prehistoric adventures do not end there, because a new mob – Sniffer has finally become available in the game. It is considered to be an ancient species, which, despite this, has been perfectly preserved to this day. Study his habits, because he can be very useful for any player.
Archaeology
To engage in this fascinating process in Minecraft 1.19.70.24, players will have to go to the desert biome. It is there that the mysterious excavations will take place.
Perhaps in the future, developers will add this feature to other locations.
Suspicious Sand
After arriving in the desert in Minecraft PE 1.19.70.24, head to the nearest temple. Near these structures, it will be necessary to find a new and very fragile block called Suspicious Sand. Try to clean it as carefully as possible with a brush so that clay fragments fall out of it.
Decorated Pot
There will be 4 such parts in total and each of them will be decorated with a special ornament. If a player in Minecraft 1.19.70.24 manages to put together all the pieces, then he will receive a clay vase.
While there is no practical use for the item, players can use it to decorate the interior.
Ancient mob
By the way, in Minecraft PE 1.19.70.24, you need to get acquainted with a new inhabitant of cubic expanses, whose name is Sniffer. The creature is harmless and spends all its time searching for seeds that players can plant and grow a beautiful flower.
What activity has become available in Minecraft 1.19.70.24?

What will it take to clear the Suspicious Sand block?

What ancient mob appeared in MCPE 1.19.70.24?
download anchor
Download Minecraft PE 1.19.70.24