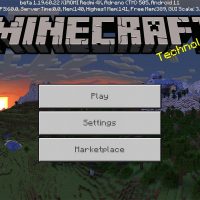 Minecraft PE 1.19.60.22
Download Minecraft PE 1.20
Download
Download Minecraft PE 1.19.60.22 with a working Xbox Live: explore the space riding a beautiful camel or use all the features of the spectator mode.
What is interesting in Minecraft 1.19.60.22?
New touch control features and an increased set of skins are offered by the developers of Mojang Studios in Minecraft PE 1.19.60.22.
Players can decorate their homes with new items, as well as go on a ride with a friend.
Spectator Mode
Use the Personal Game Mode option to take advantage of this functionality. In this version of Minecraft 1.19.60.22, players can fully appreciate all the features and advantages of the spectator mode.
It is worth noting that the developers have identified the main points when using it. Observers can pass through any blocks and objects, but do not receive damage or other effects from them.
Among themselves, such users look like flying heads, and other players who do not use this feature will not see them at all.
New items
Use new items to make your home unusual, interesting, and even unique. Hanging Signs will perfectly cope with the latter, which can now be placed not only under the blocks themselves, but also on the side of them.
The developers also offer to evaluate the possibilities of a Chiseled Bookshelf in Minecraft PE 1.19.60.22, in which you can place pens and various books. And comparators will help to determine the last placed or removed item.
Camels
These hardworking animals appeared in the game not so long ago, but have already become absolute favorites among users of the cubic world. The fact is that camels are quite tall and players riding on them will be inaccessible to walking mobs.
By the way, you can move around in Minecraft 1.19.60.22 on them, and it is always more fun with a friend. The animals also received an animation of the movement of the ears and will periodically sit down to rest for short periods.
Which mode is used to watch the game?

What can players use Chiseled Bookshelf for?

In Minecraft PE 1.19.60.22, books and pens can be placed in them.

What is unique about camels in MCPE 1.19.60.22?

These creatures can transport two riders at the same time.
Download Minecraft PE 1.19.60.22