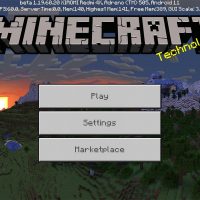 Minecraft PE 1.19.60.20
Download Minecraft PE 1.19.60.20
Download
Download Minecraft PE 1.19.60.20 with a working Xbox Live: use new items in interior decoration and surprise your friends with the unusual use of mob heads.

What is new in Minecraft 1.19.60.20?
Time does not stand still and the cubic space changes with it. In Minecraft PE 1.19.60.20, players are waiting for truly incredible adventures in which they can go riding a camel and feel like real travelers.
In the process of home improvement, innovations also appeared. Now you can decorate the entrance of Hanging Signs from any kind of wood and put a unique inscription on it. Inside, players can use Chiseled Bookshelf to store their favorite books or even make a secret door.
New mob
Traveling through the boundless space is incredibly interesting, and doing it together with a friend is even better. Just turn the saddle and two players can fit on it at once.
In Minecraft 1.19.60.20, this animal has new features – now it can jump over obstacles and wade through small reservoirs.
Skins
In addition to the usual skins of Alex and Steve in Minecraft PE 1.19.60.20, you can choose from 7 new types. Now a player from any country in the world will be able to find an option that suits him and make his hero individual and interesting.
Technical changes
In Minecraft 1.19.60.20, the developers have changed the touch control settings, which now turn on automatically.
Also in the classic control mode, while on the Raft, the player will not be able to control the joystick.
Playable mob sounds
Developers in Minecraft PE 1.19.60.20 managed to surprise users with the appearance of a new feature in the use of music blocks. Now if you put the head of any of the mobs on them, then the sound of this creature will automatically start playing.
Now users can not only scare away uninvited guests from their homes but also really surprise their friends with such an unusual option. By the way, the head of the pig has also been added to the already existing set of these items.
What is the maximum number of riders can be on a camel?

Minecraft PE 1.19 has a maximum of two players.

What use of mob heads appeared in MCPE 1.19.60.20?

What features of movement does a camel have?

He can jump over obstacles.
download anchor
Download Minecraft PE 1.19.60.20