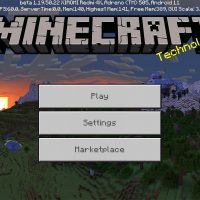 Minecraft PE 1.19.50.22
Download Minecraft PE 1.20
Download
Download Minecraft PE 1.19.50.22 with a working Xbox Live: appreciate the improved touch controls, as well as many other features that have become available in this version.
The latest novelties in Minecraft 1.19.50.22
The most long-awaited update of this year is already available to all users. The developers warn that some functions are still in Experimental mode and may be changed later.
At the moment, the most important innovations in Minecraft PE 1.19.50.22 are the appearance of camels, and players can also craft chiseled bookshelves or install hanging signs on their homes. And, of course, the use of bamboo is now more diverse.
Chiseled bookshelves
The developers decided to expand the possibilities of using shelves in Minecraft 1.19.50.22. Now it is not just a useless piece of furniture. Players will be able to place various books on them, including enchanted ones, as well as feathers.
To craft new items, users will need 6 boards and three slabs of wood. This is a completely new type of standard object that has received unique functionality.
Special features
But not only are new shelves suitable for storing books but they can also be combined with blocks of red stone. This will allow players to make secret passages in the wall.
Also in Minecraft PE 1.19.50.22, comparators will be able to determine which book was used last.
Bamboo
Bamboo is a very unusual plant that was previously used exclusively for breeding pandas or scaffolding. In Minecraft 1.19.50.22, developers have increased the use cases of this material.
Thus, players can now create various blocks from it, which can be used in the construction of buildings. But that is not all, because bamboo can be used to make a real raft with a chest and go sailing on it by sea or river. Nothing like this has ever happened before in the cubic world, so hurry up to evaluate the new features.
What is needed to craft chiselled bookshelves in MCPE 1.19.50.22?

6 boards and 3 wooden slabs.

What can bamboo be used for in MCPE 1.19.50.22?

To create blocks or build a raft.

Which animal appeared in the game?
download anchor
Download Minecraft PE 1.19.50.22