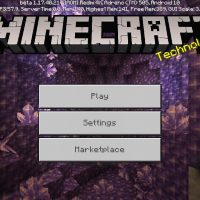 Minecraft 1.17.40.21
Download Minecraft PE 1.17.40.21
Download
Download Minecraft PE 1.17.40.21 for Android with a working Xbox Live: amethyst geodes, new tools for exploring the world, an updated graphics engine, and much more!
Minecraft 1.17.40.21: Caves and Mountains
Developers from the studio Mojang Studios have released a new version of Minecraft 1.17.40.21. This time, users will find even more different content for those exploring the updated cube world of the Cave and Mountain update.
Among the changes in Minecraft 1.17.40.21, you can see new items and materials. The Render Dragon graphics engine has also been updated.
Game process
With the release of Minecraft 1.17.40.21, there is one crucial change. The player can prevent beds from exploding in the Infernal Dimension. He can also do this with the revival anchor but in the ordinary world.
Amethyst
An essential change in the entire cube world is the beta version of Minecraft 1.17.40.21. was the emergence of new material. This was the amethyst. These crystals are generated in unique structures created in the form of an air pocket.
With the help of amethyst in Minecraft 1.17.40.21, new crafting recipes became available. Players will now be able to craft a telescope and tinted glass to block out light. At the time of beta testing, the chance of generating an amethyst geode is overstated, as the developers want to test the mechanics.
Spyglass
Another important element of the update to the cube world of Minecraft 1.17.40.21 Caves and Mountains is the spyglass. With its help, it will be possible to simplify the survival of those engaged in research.
To craft a telescope, you need to use two copper ingots and one amethyst shard. Note that with the help of it Minecraft 1.17.40.21, you can see objects at a distance of 100 blocks.
Graphics engine
Another important aspect of the entire Minecraft 1.17.40.21 update is introducing a new graphics engine called Render Dragon. Please note that despite its loud name, it will not change anything globally.
With its help, the optimization of the gameplay of Minecraft 1.17.40.21 will be improved. There will also be some opportunities for improving gameplay from developers.
Can I tame a goat in MCPE 1.17.40.21?

No, you can only milk it.

What do I do with a goat horn?

You can utilize it to produce raid sounds.

What do I need to collect powder snow?
download anchor
Download Minecraft PE 1.17.40.21