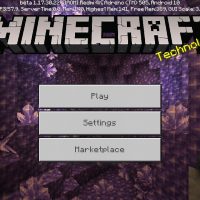 Minecraft PE 1.17.30.22
Download Minecraft PE 1.17.30.22
Download
Download Minecraft PE 1.17.30.22 Caves & Cliffs for Android devices and check out new items such as candles, amethyst, spyglass, and more.
Minecraft PE 1.17.30.22 – What's New?
In Minecraft PE 1.17.30.22 Caves and Cliffs, the player can discover a large number of new products. For example, the user can now use a spyglass to observe the area or use candles to decorate his cake.
Candle
The candle is not only an interesting but also a rather useful innovation in Minecraft 1.17.30.22. After all, the player will always need an additional light source, which can also decorate the cake. In addition, the user will be able to choose a candle of his favorite color from 16 different shades.
Up to 4 candles can be put on one block at once. To create a candle, the player will need a string and a honeycomb. To choose a color, you need to combine a candle with the desired dye in a workbench.
Amethyst Geode
New structure in Minecraft PE 1.17.30.22 update. The Amethyst Geode is an underground natural structure of the Upper World, the only source of amethyst and calcite. It consists of three layers. The outer layer is smooth basalt, the middle layer is calcite, and the inner hollow layer is formed by flowering amethyst, amethyst blocks, and buds.
Often a geode is generated with a crack through which you can get to the inner layer. Amethyst shard can be obtained from amethyst buds. To do this, you need to use any pickaxe in the game.
Spyglass
In Minecraft PE 1.17.30.22, the user has the opportunity to use a telescope. This item is necessary to observe everything that happens away from the player. It is worth noting that when using a telescope, the same vignette appears when using a carved pumpkin.
Also, this item has a unique animation of use. To see it, you need to play in third-person mode. Crafting a telescope requires two copper ingots and an amethyst shard.
Can I tame a goat in MCPE 1.17.30.22?

No, you can only milk it.

What do I do with a goat horn?

You can utilize it to produce raid sounds.

What do I need to collect powder snow?
download anchor
Download Minecraft PE 1.17.30.22