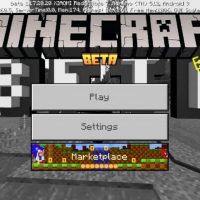 Minecraft PE 1.17.20.20
Download Minecraft PE 1.17.0.20
Download
Download Minecraft PE 1.17.20.20 for android with a working Xbox Live: go to explore the rooms of the caves and find blocks of amethyst, mine tuff, and deep slate.
What has been added to Minecraft 1.17.20.20?
The main focus of the version is updating the old mechanics, improving the familiar elements and characteristics of the characters. Many items from the Caves & Cliffs update have been added to Minecraft PE 1.17.20.20.
Now, in the vastness of the world, strong blocks of tuff and slate are generated, fragile amethysts are found, and new crafting recipes for the workbench have also been added.
Candles
In Minecraft 1.17.20.20, candles are created according to this recipe: honeycomb and thread. It should be noted that there are about 17 different colors. Each of them can be achieved thanks to special dyes.
For example, take ink bags from an octopus, or collect flowers that grow in almost every biome. Candles also have a practical value: they can illuminate the area and buildings of the player, they are an excellent addition to the birthday cake.
Amethyst
A fragile block introduced in Minecraft PE 1.17.20.20. Amethyst cannot be obtained in any way, only it can be broken thanks to improvised tools and hands.
The use of a piston and other mechanisms also leads to crystal breakage. Amethysts are generated in Minecraft 1.17.20.20 as part of huge clusters called geode caves.
Tuff
A solid block from Minecraft 1.17.20.20. For the extraction of tuff, only a pickaxe will be suitable, since other tools have no practical value and only waste the user's time.It is worth noting that tuff is usually generated along with valuable ores and resources. Therefore, if you find a block, then be sure that gold, diamonds, and copper are hidden nearby.
Can I tame a goat in MCPE 1.17.20.20?

No, you can only milk it.

What do I do with a goat horn?

You can utilize it to produce raid sounds.

What do I need to collect powder snow?
Download Minecraft PE 1.17.20.20