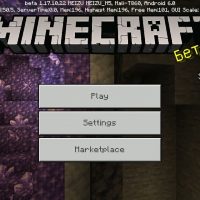 Minecraft PE 1.17.10.22
Download Minecraft PE 1.17.10.22
Download
Download Minecraft PE 1.17.10.22 for Android with a working Xbox Live and play with telescopes, explore amethyst geodes, and much more.
What's new in Minecraft 1.17.10.22?
The developers of the studio Mojang continue to delight their players with innovations from the long-awaited update Caves & Cliffs. New biomes have been added to Minecraft Bedrock Edition 1.17.10.22, such as the amethyst geode.
Candles
Candles appeared in Minecraft 1.17.10.22. A maximum of four candles can be placed on one block. To create a candle, you must use honeycomb and threads.
Spyglass
A new item has been added to the new MCPE 1.17.10.22 – a spyglass. With its help, you can explore the world around you, it will be easier to explore new territories, as well as track robbers during raids on villages. You can create a spyglass by stacking amethyst shards and copper ingots into the crafting grid.
Amethyst Geode
This biome is new and appeared with the arrival of the Minecraft PE 1.17.10.22 update. The Amethyst Geode is spherical and has 3 layers. The inner layer of this biome is entirely composed of amethyst blocks. There are times when an amethyst geode can spawn with a crack that extends right to the inner layer.
As players explore this cave, a beautiful new sound appears, reminiscent of the ringing of bells. This happens every time someone walks or interacts with the amethyst blocks.
Amethysts
These blocks are found in amethyst geodes MCPE 1.17.10.22. Interestingly, players will not be able to collect blocks of amethyst in the survival world. Amethyst blocks have no drop at all, even with a pickaxe that is enchanted with a silk touch.
A sprout from the world of Minecraft Bedrock 1.17.10.22 can start growing on either side of the amethyst. In total, such sprouts have 4 stages, at the last of which you can collect fragments of amethyst.
Tuff
We also decided to change the place of birth of tuff in the new MCPE 1.17.10.22. Now he will spawn at a depth of 0 to 16 y-blocks. This feature was made to allow players to see a smoother transition from deep slate to stone.
Can I tame a goat in MCPE 1.17.10.22?

No, you can only milk it.

What do I do with a goat horn?

You can utilize it to produce raid sounds.

What do I need to collect powder snow?
download anchor
Download Minecraft PE 1.17.10.22