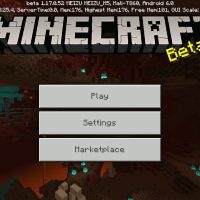 Minecraft PE 1.17.0.52
Download Minecraft 1.17.0.52
Download
Download Minecraft 1.17.0.52 for Android with a working Xbox Live: mine blocks of melting ore, meet amethyst in caves, create a spyglass.
What's new in Minecraft Bedrock Edition 1.17.0.52?
Many details have changed in Minecraft Bedrock 1.17.0.52. Apart from the standard bug fixes, Mojang Studios has also added several new elements to the gameplay.
For example, another crafting recipe has appeared, the generation of caves has changed, the contents of the rooms have become more varied and elaborated. The scheme of ore mining has also changed, instead of full-fledged blocks, ordinary fragments began to fall out.
Amethyst
Blooming amethyst in Minecraft 1.17.0.52 is a solid block that is part of the amethyst geodes in caves. It should be noted that a player will not be able to mine amethyst even with netherite tools.
Instead of the usual dropping of the item, the item will be broken. Pickaxe significantly speeds up the mining process, but this does not affect the result.
Melting Ore Drops
The game has entirely changed the block mining scheme. This innovation concerns, first, those ores that tend to melt: gold, iron, copper. In MCPE 1.17.0.52, the user still can melt materials, the developers left this feature.
However, the mined blocks will be defective, instead of the special drops that will accumulate in the player's inventory. This feature has been added to save space in the user's storage, for the possibility of greater accumulation of ores.
Spyglass
The spyglass helps you view objects from long distances. In Minecraft PE 1.17.0.52, an item consists of only two elements: copper ingots and an amethyst shard.
The player can use the telescope to observe what is happening from the other end of the map. Thus, the object is effective while using the world, it can prevent unwanted encounters with mobs.
Tuff
In Minecraft 1.17.0.52, tuff can be used as a decoration for buildings, or as markers on the map. The block is mined only with a pickaxe, other tools will not give the desired effect. Applying other items will only break the block. In this case, the tuff will not drop as an item in the user's inventory.
Changes to Minecraft PE 1.17.0.52
The axolotls will now make more sounds and swim more often than in previous versions. Users now can use powder snow right from the creative. Most mobs fall into this block and gradually freeze. The texture of the luminous lichen is now more like the surrounding blocks. Also, the glow lichen is now much closer to the stone's surface.
Can I tame a goat in MCPE 1.17.0.52?

No, you can only milk it.

What do I do with a goat horn?

You can utilize it to produce raid sounds.

What do I need to collect powder snow?
download anchor
Download Minecraft PE 1.17.0.52