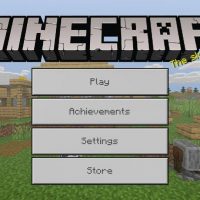 Minecraft PE 1.11.4
Download Minecraft PE 1.11.4
Download
Download Minecraft 1.11.4 full version with working Xbox Live for Android, and enjoy the game by trading with the villagers and protecting them from attacks.
Minecraft PE 1.11.4: New inhabitants and villages
In this update to Minecraft PE 1.11.4, the developers from Mojang decided to pay attention first of all to the village. Now new residents live in it with changed clothes. In addition, the village can sometimes be attacked.
Village
It is worth starting the review of Minecraft 1.11.4 with this since half of the updates are connected with the villages. First of all, it is worth noting the changed trade among residents. They can now gain experience with every sale or purchase.
With the accumulation of experience, their level will rise.  And with an increase in the level, they will be able to sell more valuable things. Also, depending on which biome the village is located in, the inhabitants will have different clothes.
Attacks
When killing the leader of a group of robbers in Minecraft PE 1.11.4, the player will receive a bad omen effect. This will provoke a raid on the village when you visit.
If you repulse it, then the player will receive the effect of the Hero of the Village. If available, villagers will reduce the prices of their goods. This effect lasts approximately two in-game days.
Blocks
With Minecraft 1.11.4, some useful blocks also appeared in the game, and others – new properties. For example, now you can fry food not only on the stove but also on the fire.
It is also worth noting the cartographer's desk. It allows you to copy, expand, or even laminate cards. Also, in MCPE 1.11.4, a sharpener, a stone cutter, a barrel, a smelting furnace, and a composter appeared.
Mobs
The last thing that affected the Minecraft PE 1.11.4 update. There are quite a few changes here, so only the most interesting ones will be considered. First of all, this is that the robbers no longer touch the children in the villages. But at the same time, they learned to break down doors. It should also be noted that from now on, every outpost has a golem behind bars.
What happens if you repel a raid on a village?

You will be given the "Hero of the Village" effect, thanks to which you will receive discounts from the villagers.

What can be dropped from hostile creatures during a raid?

The most valuable item can be dropped by the evoker- the totem of immortality

How can I avoid starting a raid when visiting a village?

You need to drink the milk for it to remove the "Brand of Misfortune" effect that causes this attack.
download anchor
Minecraft 1.11.4 Download