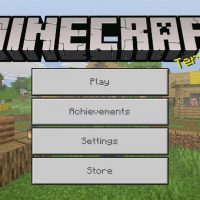 Minecraft PE 1.11.3
Download Minecraft PE 1.11.3
Download
Download Minecraft 1.11.3 full version with working Xbox Live for Android, and test your strength, reflecting the waves of raids!
Minecraft 1.11.3 – What's New?
The name of the new version of Minecraft PE 1.11.3 Village and Pillage speaks for itself. In this thread, the main focus was on improving villages. The changes also affected many mobs and blocks.
Raid
Speaking of Minecraft 1.11.3, this innovation cannot be ignored. It adds robber attacks to the game. In MCPE version 1.11.3, robbers seek to break all beds and kill all residents. If this happens, the player will lose this battle. To avoid the onset of plaque, you should get rid of the effect of the Brand of misfortune. This can be done with milk.
Blocks
In Minecraft PE 1.11.3, many blocks in experimental mode have officially appeared in the game.
Stonecutter
Serves for cutting stones. Sometimes it is impossible to get some blocks in the workbench. In this case, in Minecraft, PE 1.11.3 stone cutter is a universal solution. If you put a stone in it, then a list of blocks that can be obtained will appear on the left.
Cartographer's table
The cartographer's table is intended for lamination, as well as expansion of maps in Minecraft 1.11.3. It appears in the village houses of cartographers. To expand, put the used card on the table along with a blank sheet of paper. And for lamination – together with glass. You can also copy maps with this block. To do this, you need to put the main card next to the blank one.
Trade
Got economic reserves in Minecraft PE 1.11.3. With each trade, the villager will gain experience. Upon reaching a certain experience, his level will increase. This will allow you to purchase more valuable items. Sometimes even together with enchantment.
Changes regarding mobs in MCPE 1.11.3
The developers from Mojang have made a few more small changes:
robbers do not kill children in villages;
golems in Minecraft 1.11.3 appear in every village, as well as behind bars in outposts;
residents flee to their homes at the ringing of bells.
What happens if you repel a raid on a village?

You will be given the "Hero of the Village" effect, thanks to which you will receive discounts from the villagers.

What can be dropped from hostile creatures during a raid?

The most valuable item can be dropped by the evoker- the totem of immortality

How can I avoid starting a raid when visiting a village?

You need to drink the milk for it to remove the "Brand of Misfortune" effect that causes this attack.
download anchor
Minecraft 1.11.3 Download