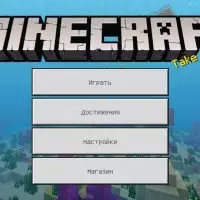 Minecraft PE 1.11.0
Download Minecraft PE 1.11.0
Download
Download Minecraft 1.11.0 full version with working Xbox Live for Android, and experience a brand new village life!
Minecraft PE 1.11.0: Village and Pillage
Finally, the developers at Mojang have released the highly anticipated Minecraft Bedrock Edition 1.11.0 update. It is almost entirely aimed at transforming village life. Now in the settlements, you can meet different inhabitants. And sometimes, you even have to protect them from the raids of robbers.
Mobs
Most of the effort in Minecraft 1.11.0 was assigned to residents, robbers, and more.
Inhabitants
From now on, the player, having come to the village, will no longer see the inhabitants of this area familiar to him. More precisely, they will be slightly different in appearance and functionality.
In Minecraft PE 1.11.0, each of them gains experience when trading, with which they can increase their level. With each new level, new items for trade will be available. Villagers now also regenerate their health when they sleep.
Outpost Inhabitants
With the release of Minecraft PE 1.11.0, these creatures have become slightly kinder: they no longer kill children in villages. But at the same time, these hostile creatures became even stronger. For example, vindicators can break down doors that were previously used to hide.
Raids
The looting by the inhabitants of the outpost deserves special attention in Minecraft 1.11.0. While wandering around the world, the player may encounter a small group of robbers. Among them will be their leader with the corresponding flag.
If you kill him, the effect of the bad omen will be imposed. To get rid of this effect, you need to drink milk. If you visit any village with this effect, a raid will begin.
Blocks
Minecraft PE 1.11.0 also brought some interesting tools to the game. For example, using a cartographic table, you can expand or even copy maps. And on the stone cutter, you can now cut various stones.
In addition to all this, the composter, smokehouse, melting oven, and barrel have functionality since Minecraft Pocket Edition 1.11.0.
What happens if you repel a raid on a village?

You will be given the "Hero of the Village" effect, thanks to which you will receive discounts from the villagers.

What can be dropped from hostile creatures during a raid?

The most valuable item can be dropped by the evoker- the totem of immortality

How can I avoid starting a raid when visiting a village?

You need to drink the milk for it to remove the "Brand of Misfortune" effect that causes this attack.
Minecraft 1.11.0 Download