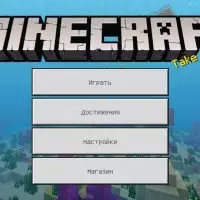 Minecraft PE 1.11.1
Download Minecraft PE 1.11.1
Download
Download Minecraft 1.11.1 full version with working Xbox Live for Android, and protect the inhabitants from constant raids!
Minecraft PE 1.11.1 – What's New?
First of all, in this version of Minecraft Bedrock 1.11.1, the changed trade in the village is worth noting. Also, many other blocks and creatures have undergone some changes.
Raid
From now on, if you approach a village in Minecraft 1.11.1 with the Brand of misfortune effect, a frightening sound will be emitted. This will talk about the beginning of the attack. The player should be vigilant as the attack can start from either side.
The bow is the most effective way to counter a raid. Especially if he is enchanted with power, there will be a different number of waves depending on the difficulty levels.
Trade
With the release of Minecraft PE 1.11.1, residents can sell different things depending on their level. And this level will rise in the course of trading. Level 5 is the maximum, but you need to spend a lot to achieve it.
Mobs
A large number of creatures in Minecraft 1.11.1 have been changed.
Mob
Description
Cat
Spawn in every bed in villages. The maximum number of cats in each village is 10.
Iron Golem
When attacking an outpost, you can see it locked in a cage. Recommended as it can help a lot.
Traveling Merchants
From now on, in Minecraft PE 1.11.1, they can suddenly disappear from view at sunset. But don't be surprised, as this is just an invisibility potion. This helps to avoid hostile mobs.

It is also worth noting that now the llamas of this very merchant will not breed.
Blocks
This is another key part of Minecraft 1.11.1. First of all, it should be said about the new possibility of frying food: over a fire. You need to tap food. It is also impossible not to mention the new useful function of the bell. If you start hitting him, then the inhabitants will immediately start scattering to their homes.
What happens if you repel a raid on a village?

You will be given the "Hero of the Village" effect, thanks to which you will receive discounts from the villagers.

What can be dropped from hostile creatures during a raid?

The most valuable item can be dropped by the evoker- the totem of immortality

How can I avoid starting a raid when visiting a village?

You need to drink the milk for it to remove the "Brand of Misfortune" effect that causes this attack.
download anchor
Minecraft 1.11.1 Download