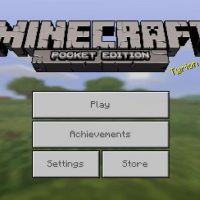 Minecraft PE 1.1.0
Download Minecraft PE 1.1.0
Download
Download Minecraft PE 1.1.0 full version with working Xbox Live for Android: forest mansion, many new mobs, blocks for decoration, and much more await you!
Minecraft 1.1.0 – What's New?
The Mojang team has finally published the first release of Minecraft 1.1.0. In the new update, players may notice the fact that much more content has appeared, as well as the optimization, has improved many times over. This version of the Discovery Update is the opener for the update.
Mansion
The developers decided to surpass themselves in the new update and add another huge dungeon in Minecraft 1.1.0. The Forest Mansion is the largest structure in the world, even more, significant than an underwater temple. To search for this building, you need a treasure map, which, in addition to the road to it, also indicates the location of the underwater temple.
Inside the building, you can find three mobs at once, each hostile to the player: evoker, vex, vindicator. By killing the summoner, the user can get an immortality totem to avoid death if held in hand.
Mobs
In Minecraft 1.1.0, five types of creatures are waiting for us. Moreover, each of them has its characteristics.
Name
Description
Features
Vindicator
An ordinary inhabitant of the mansion, who, in case of danger, will attack the user.
Attacks with an iron ax.
Evoker
An unusual creature of the Minecraft 1.1.0 world, which cannot inflict physical damage.
Summons

vexes and fangs

.
Vex
A small flying mob that can kill an opponent in just a couple of hits.
They pass through the blocks.
Llama
Another pack animal of the world of Minecraft 1.1.0, which can be formed into a caravan.
Carries loads on the back.
Cartographer
A villager wearing a white robe.
Sells a treasure map.
Blocks
The Discovery Update also did not forget about the replenishment of the collection of items, especially decorative ones. Thus, we can enjoy the appearance of three blocks in Minecraft 1.1.0: concrete powder, concrete, glazed terracotta.
Why use cement over wool in MCPE 1.1.0?

Concrete provides a bright and rich color, does not burn, and is also much easier to mine.

What is a cartographer for?

The new resident will allow players to purchase a treasure map that will point the way to the mansion or underwater temple.

Where can I find the totem of Undying?

The totem of undying can be knocked out of the evoker in the forest mansion.
download anchor
Minecraft 1.1.0 Download