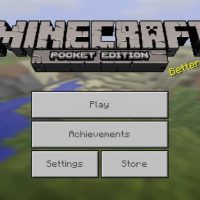 Minecraft PE 1.1.2
Download Minecraft PE 1.1.2
Download
Download Minecraft PE 1.1.2 full version with working Xbox Live for Android: cartographer, immortality totem, fixes and more are waiting for you!
Minecraft 1.1.2 – What's New?
The Mojang development team recently announced that they are ready to release the latest version of the Discovery Update – Minecraft 1.1.2. In this update, they decided not to add a lot of new things, however, even so it turned out to be a very rich changelog.
Cartographer
In the world village of Minecraft 1.1.2, you can now find a new inhabitant. It was the cartographer – the only type of mobs that can sell the player a real treasure map. Distinguishing him from other villagers is quite easy – just look for a mob in a white robe.
Treasure map
An important element of the Minecraft 1.1.2 gameplay is the map. The fact is that this is the only way, besides randomness, to find a forest mansion or an underwater fortress. You can purchase this item from the cartographer for 1 compass and 12-28 emeralds at the fourth level of trade.
Opening it, you will find one of two icons, which denotes two large Minecraft 1.1.2 dungeons. The Forest Mansion is the largest structure in the game.
Totem of Undying
A new item in Minecraft 1.1.2, which will allow users to avoid sudden death. To do this, you just need to hold this artifact in your hand. There is only one way to get it – by knocking it out of the summoner in the dark forest.
After receiving a lethal dose of damage, the player will immediately notice the saving action, but he will immediately break:
the character will receive a certain amount of health points;
it will be subject to Regeneration II and Damage Absorption I.
Llamas
A new type of pack animals of the Minecraft 1.1.2 world, which will help the user to move with all the things.
In Minecraft 1.1.2, you can form a caravan from several individuals, which will go in an even chain. It is important not to forget that in case of danger, llamas can attack, starting to spit and causing damage in half a heart.
Why use cement over wool?

Concrete provides a bright and rich color, does not burn, and is also much easier to mine.

What is a cartographer for?

The new resident will allow players to purchase a treasure map that will point the way to the mansion or underwater temple.

Where can I find the totem of Undying in Minecraft 1.2.2?

The totem of undying can be knocked out of the evoker in the forest mansion.
download anchor
Minecraft 1.1.2 Download