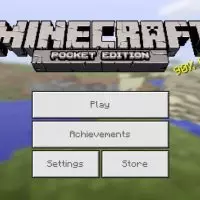 Minecraft PE 1.1.5
Download Minecraft PE 1.1.5
Download
Download Minecraft PE 1.1.5 full version with working Xbox Live for Android: llamas, immortality totem, forest mansion, and more!
Minecraft 1.1.5 – What's New?
The Minecraft 1.1.5, called the Discovery Update, brought new creatures, new blocks, and even one new structure to the game. This version is the latest in the Minecraft Pocket Edition series.
Forest mansion
It can be called the most important innovation in Minecraft 1.1.5. This location is generated extremely rarely in a dark forest. It is huge and has numerous rooms inside, ranging from the dining room to the treasury. Various hostile creatures live inside the forest mansion, so you need to be careful.
Mobs
The next important innovation in Minecraft 1.1.5 is mobs. There were four creatures in total. Among them is the cartographer. He is an ordinary villager, but with one big difference: he sells various maps. If you're lucky, you can even redeem a treasure map.
Items
With Minecraft 1.1.5, new items have also appeared: the totem of undying and a treasure map. The names of both of these items speak for themselves. It is only worth noting that the totem can only be knocked out from the evoker. With the help of this item, you can not be afraid to engage in battle, even with bosses.
Enchantments
In Minecraft 1.1.5, the game has been supplemented with two more new enchantments: mending and forest walker. Items with the Repair enchantment will regenerate over time, consuming the player's experience.
Blocks
And the final part of the Minecraft 1.1.5 update is the blocks, of which as many as eight pieces have been added. Among them are concrete, concrete powder, magma, and bone blocks. At first glance, the concrete powder may seem like ordinary sand.
But as soon as he comes into contact with water, he immediately hardens and turns into concrete. Concrete can be widely used in the construction of various structures.
Why use cement over wool?

Concrete provides a bright and rich color, does not burn, and is also much easier to mine.

What is a cartographer for?

The new resident will allow players to purchase a treasure map that will point the way to the mansion or underwater temple.

Where can I find the totem of Undying in Minecraft 1.1.5?

The totem of undying can be knocked out of the evoker in the forest mansion.
download anchor
Minecraft 1.1.5 Download