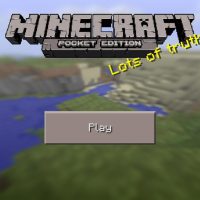 Minecraft PE 0.9.1
Download Minecraft PE 0.9.1
Download
Download Minecraft PE 0.9.1 for free on Android: new game mechanics and updated generation of worlds. Have been fixed many bugs and have been added, unseen creatures.
What is interesting in Minecraft 0.9.1?
Mojang developers have added in this version many interesting features. In Minecraft PE 0.9.1, various structures appear. One of them is a village. They represent small settlements with the same type of houses, in which sometimes you can find treasure chests.
The developers have made the cubic world incredibly lively and diverse. New blocks and different types of decorative elements make the game very exciting.
The game gives players the opportunity not to limit themselves in the implementation of the most daring ideas. This add-on confirms this once again.
Main additions
It is worth noting that the game has become more stable, this can not but please because the gameplay should not stop in any case. There are many new types of trees and other plants appearing in this version.
When creating a world, the player can choose which world it will be. For example, if click on the Infinite button, a world without borders will be created.
It will be possible to run in any direction without restrictions. This is designed so that players can get the most out of Minecraft 0.9.1.
Items
In the jungle, you can now find new items in Minecraft 0.9.1, such as creepers or cocoa fruits. In swamps or plains, new plants also appear, these are water lilies and ferns.
From wheat and cocoa, the player can create cookies and share them with friends.
Biomes
Thanks to the efforts of Mojang developers, new locations appear in Minecraft PE 0.9.1: swamps, jungle, and deep ocean.
This is not the whole list of new biomes that will be encountered in the cubic world. The game has become more diverse and interesting. Exciting journeys are waiting for all!
How to tame a wolf?

Just give him some bones.

How to make the world infinite?

Change settings when creating a world.

Is it possible to use multiplayer mode?
download anchor
Download Minecraft PE 0.9.1