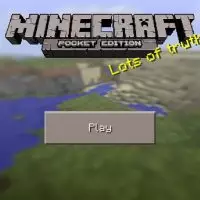 Minecraft PE 0.14.0
Download Minecraft PE 0.14.0
Download
Download Minecraft PE 0.14.0 for free on Android: appreciate the completely changed user interface, use boilers, and maps.
What is new in Minecraft 0.14.0?
The developers of Mojang Studios have tried not only to fix a large number of errors but also to add interesting and useful items to Minecraft PE 0.14.0. 4 types of trolleys have been added to the game. If they are supplemented with chests and funnels, then a full-fledged system for the removal of resources from the mine can be obtained.
Users will be able to use blocks of slime in the gameplay. They are very useful for the construction of various traps because they have sticky properties. Also, these blocks can mitigate damage when falling from a height.
The witch and her hut
It is possible to meet a new mob in Minecraft 0.14.0 in the swamps or walk at night. Users should be very careful with witches because they have potions for all cases: what to heal, not to drown, or not to burn.
By the way, witches will throw potions at the player, for example, for poisoning. And for all adventure lovers, the developers have also prepared the hut of the Witch.
This structure is not so easy to find, but if the player finds it, you can try your luck and look inside the potion.
Just be very careful, because the Witch maybe somewhere nearby.
Blocks and items
Another innovation of Minecraft PE 0.14.0 is slime blocks, they have sticky properties. So they can be used greatly in the manufacture of traps.
By the way, if the hero jumps on them from a height, the player can fly quite high. And the damage from the fall will be less.
Interface
In Minecraft 0.14.0, the visual component of the game has been significantly improved. The texture of the blocks has changed a lot, and sets of skins made of red stone have also appeared.
In the game, users can use double trap chests, distributors, ejectors, and much more.
Where to find a witch?

There are three options: summon yourself using the summoning egg, meet at night and find a hut in the swamp.

Why are new types of trolleys needed?

They are used to create various complex mechanisms.

How to change the skin?

In the main menu, use the skins button.
download anchor
Download Minecraft PE 0.14.0