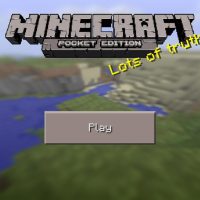 Minecraft PE 0.14.1
Download Minecraft PE 0.14.1
Download
Download Minecraft PE 0.14.1 for Free on Android: try to create a potion using a cauldron or use new mechanisms.
What is interesting in Minecraft 0.14.1?
In this update, Mojang developers have completely updated the menu and interface. Now, when logging into Minecraft PE 0.14.1, users will see new hints.
The new achievement system shows what to do in a given situation, as well as encourages completing tasks. Out of 52 achievements, there are absolutely new 8 tasks that are now available to players.
Cauldron
In Minecraft 0.14.1, a hero can use a new interesting item – this is a cauldron. It can be found in the Hut of Witch, unless, of course, the player is afraid of meeting an evil sorceress. By the way, cauldron user can craft independently.
By the way, users can find several ready-made potions in the dwelling of the Witch, or create them with the help of a cauldron.
This item itself is a fairly durable block that hero can place on any surface.
Frame
A new object that players can use for interior decoration appears in Minecraft PE 0.14.1. It is called a frame and users can place any object inside of it.
Subsequently, the objects placed inside can be rotated.
Other features
Players now have the opportunity to try on images from Minecraft Story Mode. This is especially interesting because it reflects one of the parts of the Universe of the cubic world.
The developers have implemented an achievement system in Minecraft 0.14.1, thanks to which it will be easier for new users to get used to the gameplay.
A lot of useful items related to Redstone appeared in the game:
double trap chests;
distributors are very interesting. Hero can install arrows or buckets of lava  in them. After that distributors will shoot or pour out the contents;
comparators – help to enable or disable the signal.
All updates create a unique world for the favorite game of everyone.
Where to find a witch?

There are three options: summon yourself using the summoning egg, meet at night and find a hut in the swamp.

What is Minecraft Story Mode?

This is a story game, which is a project of TellTale Games, which develops over several episodes and tells the story of several heroes.

How to change the skin?

In the main menu, use the skins button.
Download Minecraft PE 0.14.1