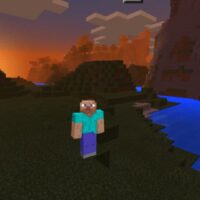 Optifine Texture Pack for Minecraft PE
Version MCPE: 1.16.0 - 1.20.41
Download
Download Optifine Texture Pack for Minecraft PE: customize the graphics in the game, make it more stable and productive, and get the opportunity to eliminate freezes.
Optifine Texture Pack for Minecraft Bedrock Edition
Even popular modern devices sometimes cannot fully process all the information and work without failures. The reason is that applications do not always adapt to the capabilities of the gadget.
The authors suggest using the Optifine Texture Pack. By installing it players can eliminate the occurrence of freezes in the game. Even users can remove unnecessary objects in Minecraft PE.
Main Features
For the device not to waste its power on the appearance of unnecessary objects. Minecraft Bedrock Edition players are recommended to use the Optifine texture pack. The creators have fully optimized this update. They added shaders to it.
The bright and rich blue color of the water attracts the attention of every player who comes to the pond at any time of the day. At night the monsters will not go unnoticed. Users can perfectly distinguish between zombies and creepers even at midnight.
Technical capabilities
Players are given access to a special command /help 1. Users need to familiarize themselves with all the functions of the Optifine texture pack. They can learn about all the features and possible changes. New features are available to Minecraft PE players who have installed the add-on.
Updated menu
For the process of configuring graphics and other processes in Minecraft PE to be convenient for every user. The creators of Optifine Texture Pack have slightly changed the settings menu. It has several new sections. Players can use an additional tab.
All this will allow users to decide for themselves. And manage how the world around them will look in their favorite game. Invite your friends to evaluate all the possibilities together right now.
What if the Optifine Texture Pack does not work?

Try to activate the experimental game mode.

Can I use it on servers?

Yes, you are free to use it on public servers.

How do I install this texture pack?

The file is in .mcpack extension, so just tap on the file to automatically install the modification.
Download Optifine Texture Pack for Minecraft PE