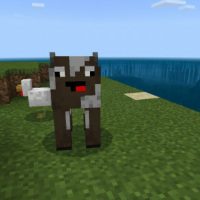 Mob Texture Pack for Minecraft PE
Version MCPE: 1.16.0 - 1.19.63
Download
Download Mob Texture Pack for Minecraft PE: change the familiar look of the characters, they will change their appearance and even start smiling.
What is interesting in Mob Texture Pack?
Mob Texture Pack will help to add something new to the familiar world of Minecraft PE, while not changing the overall appearance. With this update, the familiar creatures will look a little different.
They will have new elements that will make the appearance of mobs more realistic. Also, some creatures will get a new facial expression – a smile. This will create a fun and relaxed atmosphere in the cubic world.
This update will appeal to all users because it is so cool when familiar at first glance things and characters start to look a little different, get a new look.
Realistic
It is no secret that mobs in Minecraft PE do not look particularly realistic, it is extremely noticeable if it look in more detail. The authors of Mob Texture Pack tried to give more naturalness to the appearance of the characters as much as possible.
The pig and cow got a more detailed silhouette, they became wider and their tails look bulkier.
Creepers have changed their legs, they are now located much wider than before. And it is better to see where this creature is going.
Paws of rabbits stand out from the general background, and llamas have received more elements and look very impressive.
By the way, the changes that affected spiders, skeletons, and even the magma cube have now taken the form of gelatin.
Funny
If players do not just want to add variety to the gameplay, but also make it more fun, this update for Mob Texture Pack is perfect.
Now some even harsh creatures have received cute and kind expressions. For example, creepers have now got a smile but even look a little silly. But it gives the familiar world of Minecraft PE a funny and pleasant atmosphere.
The changes also received more than 14 characters, among them chickens, llamas, and cows.
How to install these textures?

Download and open it in Minecraft PE.

Can I use it on servers?

Yes, you are free to use it on public servers.

Can this texture pack be run in a multiplayer game?

Yes, for this it is enough just to be the owner of the card and install this modification on it.
Download Mob Texture Pack for Minecraft PE