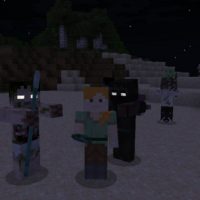 Zombie Texture Pack for Minecraft PE
Version MCPE: 1.16.0 - 1.20.31
Download
Download Zombie Texture Pack for Minecraft PE: fill the cubic world with an incredible number of creepy creatures.
What is interesting in Zombie Texture Pack?
Not all Minecraft PE users are fans of a calm and measured game. Many people like to tickle their nerves and have as many creepy monsters around as possible.
Zombie Texture Pack completely copes with this task, which adds a huge number of creepy zombies to the game, as well as drowned people.
The atmosphere of horror is complemented by the fact that these creatures constantly utter creepy sounds. They make it even more terrible and unpleasant, but that is the whole point of this update.
Tissous
In this update for Zombie Texture Pack, the developers have changed the appearance of some mobs. About fifty new images of zombies and drowned people will appear in Minecraft PE.
Each of these creepy creatures will move around the map making creepy and unpleasant sounds. The appearance of these mobs has been worked out in detail.
It is amazing how the author managed to create such a variety of styles and variants of the appearance of creepy creatures. The feeling of terrible horror does not leave when so many zombies and drowned people wander around.
Also in Minecraft PE tinctures, players can independently change the animation mode, this can be done when creating a world.
Improved
Another addition for the Zombie Texture Pack, which of course is again dedicated to these creepy creatures. About fifty new types of zombies will appear in Minecraft PE.
Their textures are drawn in detail, creating an eerie atmosphere. There is a complete feeling that a zombie apocalypse has come and now only these creatures inhabit the Earth.
The author made the eyes of these creatures glow in the dark, so walking under the moon will now be really creepy.
How to install these textures?

Download and open it in Minecraft PE.

Can I use it on servers?

Yes, you are free to use it on public servers.

Can this texture pack be run in a multiplayer game?

Yes, for this it is enough just to be the owner of the card and install this modification on it.
download anchor
Download Zombie Texture Pack for Minecraft PE