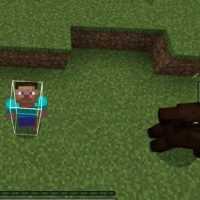 Murder Mystery Texture Pack for Minecraft PE
Version MCPE: 1.19.0 - 1.20.15
Download
Download Murder Mystery Texture Pack for Minecraft PE: always defeat your opponents on the servers, thanks to new game tools that will not let the killers escape.
What is interesting in Murder Mystery Texture Pack?
There are many different servers among Minecraft PE users. They can have fun with friends and play themed adventures. One of the most popular among them is a story where some of the players appear as murderers, and the rest are divided into detectives and civilians.
The authors of the Murder Mystery Texture Pack suggest using special tools and features that will help sheriffs easily find violators, and ordinary people hide from manslayer.
Basic information
If a Minecraft PE player has received the role of sheriff, then this update of the Murder Mystery Texture Pack will be very useful. The fact is that with its help, no killer will go unnoticed.
The fact is that now a special sign will be placed above it. Such features will certainly improve the gameplay and make it much easier and more convenient. At the same time, it is worth noting that this addition is a kind of cheat and the one who uses it on the server can be banned.
Game Modes
There are three modes in the menu when installing Murder Mystery Texture Pack. To switch between them, just click on the gear icon. The first option is called No Detector and with its help, it will only be possible to determine the location of other players.
Active – this option provides the most complete functionality of this update. He will tag absolutely all players, regardless of their role. No Active and finally, only two pointers will appear in this variant: the bow will mean that the player is performing the actions of the sheriff, and the sword is the killer.
This is a great and unique opportunity to be one step ahead of the rest of the contestants.
What if the Murder Mystery texture pack does not work?

Try to activate the experimental game mode.

Can I use it on servers?

Yes, you are free to use it on public servers.

How do I install this texture pack?

The file is in .mcpack extension, so just tap on the file to automatically install the modification.
download anchor
Download Murder Mystery Texture Pack for Minecraft PE