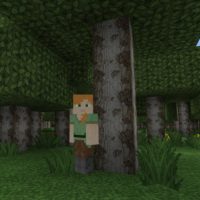 John Smith Texture Pack for Minecraft PE
Version MCPE: 1.14.0 - 1.20.41
Download
Download John Smith Texture Pack for Minecraft PE: one of the best updates for the cubic space in the medieval style, in which the authors updated the entire space surrounding the player.
John Smith Texture Pack
In those days, which inspired the authors to create the John Smith Texture Pack, the main construction material was stone and wood. Therefore, in this update, it is these blocks that have been transformed and received improved textures and incredible graphics.
Minecraft PE players who visit the updated world will immediately notice that the colors of the surrounding nature have become darker and richer. Which in turn creates an unusual atmosphere for the game.
Mobs
In addition to the changes that affected the appearance of most blocks. The authors decided to update some mobs in the John Smith Texture Pack. Now pigs, cows, and chickens will get more detail and realism.
Even spawn eggs in the Inventory of the Creative mode of Minecraft PE will look different in general. A lot of images will be transformed and become more noticeable and interesting.
Armor
In medieval times, there were many wars and battles. Therefore, armor and weapons had a very important role in the life of everyone. Because the John Smith Texture Pack was created in the theme of this era, the authors paid special attention to the appearance of the equipment.
It will look more impressive than the standard Minecraft PE. A large number of details and elements will appear on it. Fighting in such a uniform will be much more interesting and the result will be positive.
Graphics
Separately, it is worth paying attention to the magnificent graphics that amazes players from the first minutes of the John Smith Texture Pack. Perfectly matched combinations of colors and shades create an excellent atmosphere. In such a world you want to stay for a long time and create something new.
Start your adventures in the updated world of Minecraft PE.
What if the John Smith Texture Pack does not work?

Try to activate the experimental game mode.

Can I use it on servers?

Yes, you are free to use it on public servers.

How do I install this texture pack?

The file is in .mcpack extension, so just tap on the file to automatically install the modification.
Download John Smith Texture Pack for Minecraft PE