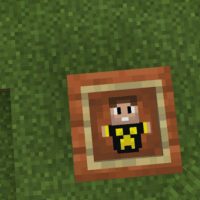 Hermitcraft Texture Pack for Minecraft PE
Version MCPE: 1.16.0 - 1.20.31
Download
Download Hermitcraft Texture Pack for Minecraft PE: change the appearance of familiar things.
What is new in Hermitcraft Texture Pack?
It is worth noting that Hermitcraft is the server on which ordinary Minecraft PE users started playing. It was a group of friends who later became very popular YouTubers.
Currently, the number of subscribers of these players is already more than thirty-five million. It is really impressive, so the author came up with something interesting to do.
Hermitcraft Texture Pack modifies the totems of immortality. Now they will look like famous YouTubers.
Main Features
Totems of immortality have been around in Minecraft PE for quite some time. This item usually falls out of the summoners.
If the player holds it in his hands, he can save him from death. Interestingly, the totem is activated at the moment when the health of the players is depleted and immediately increases by half a heart.
In addition to the practical function, this item can be used as a decoration by inserting it into a frame. For example, this way to create a room with trophies.
In the Hermitcraft Texture Pack, the appearance of the totem is completely changed. When creating a world, the user needs to enter the tinctures by clicking on the gear. A menu will appear where you can select an image for the totem.
Variants
All variants of images for totems in the Hermitcraft Texture Pack look like well-known YouTubers from the server of the same name. For example, totems can look like:
Vintagebeef – in the famous black T-shirt with a yellow pattern ;
GoodTimesWithScar;
FalseSymmetry;
Keralis;
ZombieCleo;
TangoTek.
In total, the author created more than 14 variants of the appearance of totems. Now every player has the opportunity to add images of the most famous YouTubers to their world, who have fans all over the world.
How to install these textures?

Download and open it in Minecraft PE.

Can I use it on servers?

Yes, you are free to use it on public servers.

Can this texture pack be run in a multiplayer game?

Yes, for this it is enough just to be the owner of the card and install this modification on it.
download anchor
Download Hermitcraft Texture Pack for Minecraft PE