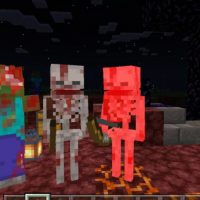 GMobs Texture Pack for Minecraft PE
Version MCPE: 1.19.0 - 1.20.15
Download
Download GMobs Texture Pack for Minecraft PE: face your fears, and make night monsters even more terrible.
What is interesting in GMobs Texture Pack?
With the onset of night, the world of Minecraft PE changes somewhat. And this is not only because the sky turns black and the moon and stars appear on it, and it becomes more difficult to move in the dark.
The number of dangerous creatures at this time of day becomes much larger. One of the most common are zombies and skeletons. It was their appearance that the authors of GMobs Texture Pack decided to transform.
Zombie
As players know, zombies are usually dressed in blue pants and a turquoise jacket.  After installing GMobs Texture Pack, there will be no changes in this plan. On the contrary, the authors only added more bleeding wounds to the body of these creepy creatures.
There have also been no changes in the mechanics of mob behavior, and they still move around the territory of Minecraft PE in groups of several individuals. By the way, it will now be possible to notice the walking dead in the dark by glowing bright red eyes.
Skeletons
Another creature that vaguely resembles a human in Minecraft PE has become even scarier thanks to the GMobs Texture Pack. The chest of skeletons is transparent, they are completely devoid of skin, but at the same time, there is still a heart beating in it, reminding that the monster was once also ordinary.
The authors added multiple wounds to the face and torso, from which blood is pouring. Also, red glowing eyes add a more intimidating look to the image of an already creepy creature.
Opportunities
Thanks to the changes that will occur in Minecraft PE after installing GMobs Texture Pack, players will be able to make the gameplay more diverse and interesting.
Each user can independently decide what mobs will look like in the cubic world, without waiting for the decision of developers.
What if the GMobs texture pack does not work?

Try to activate the experimental game mode.

Can I use it on servers?

Yes, you are free to use it on public servers.

How do I install this texture pack?

The file is in .mcpack extension, so just tap on the file to automatically install the modification.
download anchor
Download GMobs Texture Pack for Minecraft PE