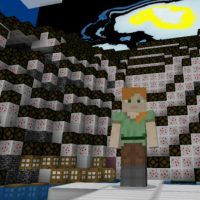 Cursed Texture Pack for Minecraft PE
Version MCPE: 1.12.0 - 1.19.63
Download
Download Cursed Texture Pack for Minecraft PE: test your strength in the most unusual and mysterious world.
What is new in the Cursed Texture Pack?
Currently, there are many additions and updates for Minecraft PE. Some add new mobs, others improve graphics and textures.
The developers are doing everything possible to surprise users and bring variety to the gameplay.
With Cursed Texture Pack, the hero will have a hard time. After all, everything is mixed up in the cubic world. A huge number of new blocks have been added, and all objects look different.
Main Features
The world of Minecraft PE has never been so unusual. You can even say that everything looks very strange. All the colors seem to have changed places and it is very confusing.
The hero will have to work hard to get used to the surrounding space. For example, a tree looks normal in appearance, but its trunk turns out to be purple in color or even consists of multicolored blocks.
If the hero looks at the sky, then all the colors are collected on it, this is the standard white, yellow and bright red, and black. And all this at the same time.
Everything in this world is wonderfully mixed up and confused. It is amazing how all the textures and blocks have changed externally thanks to this update.
Graphics
The author decided not just to add something new to the game space. In Cursed Texture Pack, everything has changed so much that the familiar world looks very strange and mysterious.
To confuse the player, confuse him – that is the main goal of this update. Only the bravest players will be able to overcome all obstacles.
Only those who are not afraid of difficulties, and who are not looking for simple solutions will be able to sort out this confusing space.
By the way, coping with all the difficulties is much more fun with friends. Adventures are already waiting for all the bravest heroes.
How to install these textures?

Download and open it in Minecraft PE.

Can I use it on servers?

Yes, you are free to use it on public servers.

Can this texture pack be run in a multiplayer game?

Yes, for this it is enough just to be the owner of the card and install this modification on it.
Download Cursed Texture Pack for Minecraft PE