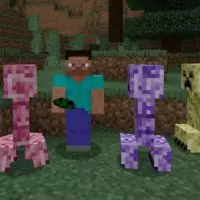 Creeper Texture Pack for Minecraft PE
Version MCPE: 1.9.0 - 1.20.31
Download
Download Creeper Texture Pack for Minecraft PE: change the appearance and animation of the most ordinary mob.
What is new in Creeper Texture Pack?
Creepers are mobs that are hostile to the hero. Their only method of attack is an explosion, that is, they explode and thereby cause damage to the enemy. Usually, these creatures are green in color in Minecraft PE.
Creepers appeared in the game for quite a long time, but since then their image has not changed in any way. In the Creeper Texture Pack, the developers tried to add novelty to these creatures.
The color of the creepers, and the animation changed, and they also began to look like a completely different characters.
Animation
In this update for Creeper Texture Pack, the author has added a new animation to the creatures. The movement of creepers will become more regular and smooth, the body will sway to the sides, indicating the readiness to blow someone up.
Creatures have gained more realism in this update for Minecraft PE. Now the animation will work not only when moving, but also when the creeper is standing in one place.
Colored
Another addition will be changing the color of the creepers. Now users will have access to up to twenty color options for these creatures. No boring green color.
Creepers will be pink, brown, purple, and even lilac. Creeper Texture Pack will add a cheerful mood to Minecraft PE.
But do not relax too much, because apart from the appearance of these creatures, nothing has changed. Which means they can still blow up the hero.
Luigi
What exactly Minecraft PE users did not expect is that the creeper will look like Luigi from a popular video game. But the author may have decided that the character in a green suit fits well with the image of a green creeper.
Thanks to the Creeper Texture Pack, a new kind of creeper has appeared in the cubic world.
At the same time, he will still explode and chase the hero. So, it is worth being wary of this seemingly harmless character.
How to install these textures?

Download and open it in Minecraft PE.

Can I use it on servers?

Yes, you are free to use it on public servers.

Can this texture pack be run in a multiplayer game?

Yes, for this it is enough just to be the owner of the card and install this modification on it.
download anchor
Download Creeper Texture Pack for Minecraft PE