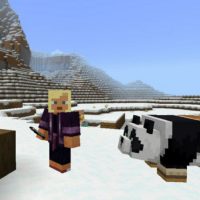 Kung Fu Panda Texture Pack for Minecraft PE
Version MCPE: 1.19.0 - 1.20.15
Download
Download Kung Fu Panda Texture Pack for Minecraft PE: change the appearance of some mobs of the block space and make friends with them right now.
What is interesting in Kung Fu Panda Texture Pack?
As soon as pandas appeared in Minecraft PE, they instantly became very popular among users. Their behavior is touching and you can watch for hours as they roll on the ground or eat their favorite delicacy – bamboo.
The authors of the Kung Fu Panda Texture Pack decided to add something new to the appearance of these wonderful creatures and now every user can appreciate these changes.
Famous Character
The film is about a character named Po who is known all over the world. Despite his clumsiness, the brave bear was able to reach unprecedented heights in kung fu and defeated many powerful enemies.
The creators of the Kung Fu Panda Texture Pack decided to make pandas in the block space look like this character. That is why they will now be wearing pants and a belt. Moreover, the changes will affect both adults and cubs.
It is worth noting that the mechanics of mob behavior in Minecraft PE will remain the same.
Puffier
This time, the creators of the Kung Fu Panda Texture Pack have added some important details to the appearance of cute mobs to make their look even more interesting. At the same time, they are still recognizable and behave the same as before.
Make your adventures in Minecraft PE exciting and unusual.
Red
By installing this update for the Kung Fu Panda Texture Pack, players may not immediately recognize the mobs that are in front of them. The fact is that the usual black and white bears, which in Minecraft PE have quite large sizes, will be replaced by completely different animals.
They are also pandas, but they are called Tanuki and their color has red and red shades. Be sure to turn on the Experimental Game Mode so that all changes take effect.
What if the Kung Fu Panda Texture Pack does not work?

Try to activate the experimental game mode.

Can I use it on servers?

Yes, you are free to use it on public servers.

How do I install this texture pack?

The file is in .mcpack extension, so just tap on the file to automatically install the modification.
download anchor
Download Kung Fu Panda Texture Pack for Minecraft PE