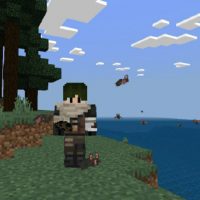 Bats Texture Pack for Minecraft PE
Version MCPE: 1.19.0 - 1.20.15
Download
Download Bats Texture Pack for Minecraft PE: change the appearance of the inhabitants of the cubic world, and make it more realistic and interesting.
What is unique in Bats Texture Pack?
There are quite a lot of different mobs in the cubic world that gives the gameplay meaning and make it interesting and diverse. Some of them, such as creepers or zombies, pose a real danger to the player, not to mention such villains as Warden.
Others are beneficial and can be used by Minecraft PE players as pets or to get a useful drop. Some can be found everywhere, while others have a limited habitat.
In Bats Texture Pack, the author decided to change the appearance of the most harmless and seemingly useless creatures.
Appearance
Thanks to the changes that will occur in Minecraft PE after installing the Bats Texture Pack, these animals will be easier to see in dark and cramped caves. The fact is that standard bats are black and their location can only be determined by the characteristic squeak they emit.
Now their texture will become more noticeable. The color will change to dark brown with red eyes, nose, and stripes on the wings. The practical benefits of such changes are huge.
It is worth noting that the mechanics of the behavior of these creatures will not change, they are still not dangerous to players.
Main Features
Minecraft PE players who have not met these creatures before may not be afraid of meeting them. The fact is that bats in the cubic world are harmless. Heroes will not receive a drop from them, so the destruction of mobs is completely useless.
The creatures live in dark rooms, such as caves or abandoned mines. They will also help in the search for valuables because they can also live in treasuries. The beautiful and unusual appearance that the author of Bats Texture Pack offers will make them a real decoration of cubic expanses.
What if the Bats Texture Pack does not work?

Try to activate the experimental game mode.

Can I use it on servers?

Yes, you are free to use it on public servers.

How do I install this texture pack?

The file is in .mcpack extension, so just tap on the file to automatically install the modification.
download anchor
Download Bats Texture Pack for Minecraft PE