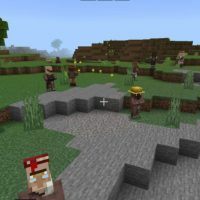 Villager Variety Texture Pack for Minecraft PE
Version MCPE: 1.19.0 - 1.20.15
Download
Download Villager Variety Texture Pack for Minecraft PE: learn how to diversify the gameplay by adding new colors and unusual mobs to it.
What is interesting in Villager Variety Texture Pack?
As you know, in Minecraft PE, traveling players can meet special settlements on their way. They consist of several houses, vegetable gardens, and small farms with animals. In the center, there is always a well and a bell that notifies the locals about the danger.
In these places, you can often find cats and golems that protect the territory from attacks by robbers or zombies. But the main characters of this place, of course, are the villagers.
It was their appearance that the author of Villager Variety Texture Pack decided to diversify and added several different options at once.
Residents
As a rule, in the cubic world, residents lead a quiet lifestyle. They work in one of the professions and then they can sell what they have produced to Minecraft PE players. At night or when the bell rings, these creatures hide in their houses and wait for a quieter time to continue doing their business.
The appearance of these creatures has hardly changed since they first appeared in the game. The developers only added various new features or animations and sound to them. The authors of the Villager Variety Texture Pack decided to completely update the appearance of the locals and invite all players to evaluate what they got.
Diversity
Thanks to the efforts of the Villager Variety Texture Pack authors, 6 new skin colors for these creatures will appear in the game at once. By the way, the standard version will also remain. In addition, the color of the eyes of residents will also change.
Now it can be red, blue, yellow, brown and black, and, of course, green. Thus, only the appearance will change, there will be no changes in the interaction process or anything else in Minecraft PE, except for the appearance.
What if the Villager Variety texture pack doesn't work?

Try to activate the experimental game mode.

Can I use it on servers?

Yes, you are free to use it on public servers.

How do I install this texture pack?

The file is in .mcpack extension, so just tap on the file to automatically install the modification.
download anchor
Download Villager Variety Texture Pack for Minecraft PE