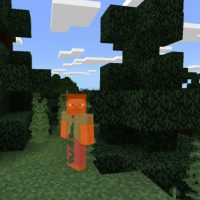 Sun Mod for Minecraft PE
Version MCPE: 1.16.0 - 1.19.83
Download
Download Sun Mod for Minecraft PE: make the survival process as difficult as possible, now players will have to hide in caves during the daytime so as not to take damage.
What is new in the Sun Mod?
As a rule, in Minecraft PE, the greatest danger for players is all kinds of monsters. Now you will also have to be afraid of sunlight. Players will have to show all their ingenuity to cope with new difficulties.
Also, after installing the Sun Mod, the heroes are waiting for a real apocalypse, which is worth preparing for to stay alive.
Three-Dimensional
Sometimes even small changes can add something unusual and interesting to the gameplay. This time, the authors of Sun Mod decided to change the appearance of the heavenly bodies. That is, at night and during the day, the sky in Minecraft PE will look completely different.
Now the moon and the sun will not be square. Their shape will become three-dimensional. It will look very impressive.
Solar
Many science fiction films tell about various apocalypses. For example, how aliens or zombies attack the earth, as well as about all kinds of natural disasters. This time, of course, the sun will be in the main role.
The authors of Sun Mod have even added the ability to set the speed of changes. You can do this when installing the update by clicking on the gear icon. There are 4 modes from slow to maximum.
Players will have to find shelter as soon as possible and stock up on everything they need. There is a special timer on the pause screen that will help you track the stages of what is happening in Minecraft PE.
Danger Sun
This time the player will take damage from sunlight. By analogy with the mechanics of zombie behavior, it will burn in the daytime. You can only escape at night or by finding a shadow or other shelter.
It is worth noting that the authors of Sun Mod have greatly complicated the process of survival and now only the bravest Minecraft PE players will be able to cope with all the difficulties.
How do I install this Sun Mod?

The file is in .mcaddon extension, so just tap on the file to automatically install the modification.

Can this mod be run in a multiplayer game?

Yes, for this it is enough just to be the owner of the card and install this modification on it.

What if the mod does not work?

Try to activate the experimental game mode.
Download Sun Mod for Minecraft PE