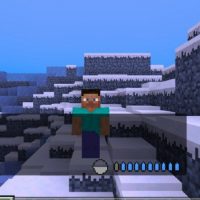 Temperature Mod for Minecraft PE
Version MCPE: 1.13.0 - 1.20.32
Download
Download Temperature Mod for Minecraft PE: add more realism to the gameplay thanks to the appearance of new indicators that will report on the health of the hero.
What is unique in the Temperature Mod?
In the cubic world, each player will face many challenges, and Temperature Mod offers to further complicate the process. Heroes will feel incredibly cold and heat, being near ice or fire.
By the way, a lot of new creatures will appear in Minecraft PE, some of which will be ready to do anything to deal with the hero. Try to resist natural changes, monitor the condition of the hero, and try to survive.
Temperature
Test your survival skills in extreme conditions right now. After installing the Temperature Mod, players will be able to use several special commands. With their help, you can create a command block.
With its help, it will be possible to adjust the state of the player. Also, a special scale will appear on the screen for these purposes. Just enter /function temperature and follow the instructions that appear on the screen.
Being surrounded by ice for a long time, the Minecraft PE hero can get frostbite. If he is exposed to fire or lava, he will start to burn. A bucket of water will be a universal means of salvation in any situation, so it is better to always carry this item with you.
Ice Age
This time, the entire surface of Minecraft PE will turn into an icy desert. But it will not be deserted, on the contrary, many new animals and other creatures will appear. Their appearance will greatly complicate the player's survival.
By the way, the Temperature Mod adds a new scale to the screen, which will report how cold the hero is at this moment.
Use unique items and weapons to withstand all the challenges and stay alive in such a dangerous environment. Only the bravest and most experienced heroes will be able to cope with this.
How do I install this Temperature Mod?

The file is in .mcaddon extension, so just tap on the file to automatically install the modification.

Can this mod be run in a multiplayer game?

Yes, for this it is enough just to be the owner of the map and install this modification on it.

What if the mod does not work?

Try to activate the experimental game mode.
download anchor
Download Temperature Mod for Minecraft PE