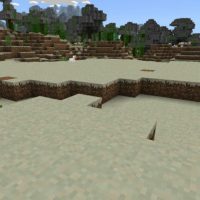 Seasons Mod for Minecraft PE
Version MCPE: 1.2.0 - 1.20.32
Download
Download Seasons Mod for Minecraft PE: add realism to the gameplay, and enjoy the change of the surrounding nature, which will look amazing at any time.
What is new in the Seasons Mod?
Players know that in Minecraft PE there is a change of day and night, but the developers did not foresee any changes in the surrounding nature. That is, only summer or winter biomes are present.
The authors of Seasons Mod decided to fix this and added all four stages to the game: winter, spring, summer, and autumn. This will greatly improve the realism and add something new to the gameplay.
Winter
Eternal winter will come to Minecraft PE as soon as players install this update. Now there will be snow and ice everywhere, and you will have to forget about warm and sunny days forever. But do not be upset, because there is a very joyful period at this time of the year.
Namely, the celebration of the New Year – the most beloved holiday for everyone. And he cannot do without all kinds of jewelry. They will be generated in desert biomes after installing Seasons Mod.
Seasons
Add more realism to the Minecraft PE world thanks to Seasons Mod. Now players will observe all natural stages. There are four of them in total, as it should be: winter, spring, summer, and autumn. The nature around will change depending on the season.
For example, in winter everything will be covered with white snow, and in autumn the grass and leaves of trees will turn yellow. By the way, players can adjust the speed of changes themselves. Each of them can take from 5 to 30 minutes of playing time.
The perception of biomes will also change. If you go to the mountains in the summer, the players will not find snow there, and flowers will be fragrant everywhere.
More Features
With this update for Seasons Mod, players will be able to set themselves what time of year will be in Minecraft PE. By the way, spring and autumn have 2 varieties at once: early and late.
Enjoy the beauty of each of them and choose for yourself the most favorite.
How do I install this Seasons Mod?

The file is in .mcaddon extension, so just tap on the file to automatically install the modification.

Can this mod be run in a multiplayer game?

Yes, for this it is enough just to be the owner of the card and install this modification on it.

What if the mod doesn't work?

Try to activate the experimental game mode.
download anchor
Download Seasons Mod for Minecraft PE