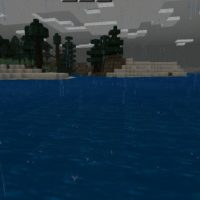 Rain Mod for Minecraft PE
Version MCPE: 1.14.0 - 1.19.83
Download
Download Rain Mod for Minecraft PE: beware of new dangers that will fall on the player and mobs directly from the sky.
What is new in the Rain Mod?
The authors of Rain Mod have prepared new challenges for players. Now precipitation will be very dangerous for the life and health of the player and everything that surrounds him.
Therefore, it is worth taking care of Steve's safety in advance and being on the alert when bad weather starts in Minecraft PE.
Apocalyptic
After installing this add-on for Rain Mod, a real apocalypse will begin in the surrounding space. It will consist of the fact that fire drops will constantly fly at the player.
Naturally, they will burn grass, wood, villages, and leaves. Even the stones will not be able to resist them and will turn into cobblestones. The longer a Minecraft PE player stays in one place, the more it will change.
Forget about creepers, zombies, and other monsters, now the problems will be much more dangerous. The authors have provided two modes: night and standard. In the first, there will be a constant night in the world, and in the second, only a rain of fire will be added.
Each of the modes has different settings, a setting which must take into account the power of the device.
Acid
This time the precipitation in Minecraft PE will become acidic and its color will change to green. Most mobs and Steve himself will receive damage from them. It is worth noting that they cannot destroy buildings, so players can hide inside to wait out the bad weather.
The authors of Rain Mod tried to make the tests difficult and dangerous.
Mystic
This addition for Rain Mod will not make precipitation dangerous for the player or mobs. On the contrary, they will become more realistic.  Added the texture of splashes and drops, as well as atmospheric thunder sounds.
All this will make the world of Minecraft PE surprisingly attractive and very interesting.
How do I install this Rain Mod?

The file is in .mcaddon extension, so just tap on the file to automatically install the modification.

Can this mod be run in a multiplayer game?

Yes, for this it is enough just to be the owner of the map and install this modification on it.

What if the mod does not work?

Try to activate the experimental game mode.
Download Rain Mod for Minecraft PE