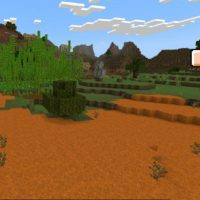 Heat Mod for Minecraft PE
Version MCPE: 1.16.0 - 1.20.32
Download
Download Heat Mod for Minecraft PE: keep an eye on the temperature sensor and take into account its readings to preserve Steve's strength and health.
What is new in the Heat Mod?
From now on, players will have to monitor not only the indicators of health and hunger but also the temperature. Going to a desert area, it is worth taking care of proper equipment so as not to lose your strength.
By the way, after installing the Heat Mod, Steve will start taking damage from simple sunlight. Now it will be possible to move around the territory of Minecraft PE only at night and use caves and shelters during the day.
Heat
This time, nature itself will rise against the heroes, and gradually the surrounding space will change, and being in it will be more dangerous. Therefore, Minecraft PE players will have to find shelter as soon as possible and take care of food before the real apocalypse begins.
The fact is that after installing the Heat Mod, the sun will simply illuminate and warm, and it will burn all living things. In such conditions, only the most persistent will survive.
Danger
Another update for Heat Mod is also related to the effect of sunlight on the player. Now Steve will take damage while being in the rays of the sun.
Users will have to come up with a new survival strategy in Minecraft PE.
Temperature
After installing this update for Heat Mod, a new icon will appear on the screen. It will signal what feelings Steve is experiencing while in a particular area. For example, in cold biomes, it will be a snowflake that will inform that the hero is cold.
If you stay in the desert biomes of Minecraft PE for a long time, the designation will change from a small flame to a strong fire. At the same time, the player will even experience effects such as poisoning or thirst.
But as soon as he reaches a safe place, they will immediately disappear.
How do I install this Heat Mod?

The file is in .mcaddon extension, so just tap on the file to automatically install the modification.

Can this mod be run in a multiplayer game?

Yes, for this it is enough just to be the owner of the map and install this modification on it.

What if the mod does not work?

Try to activate the experimental game mode.
download anchor
Download Heat Mod for Minecraft PE