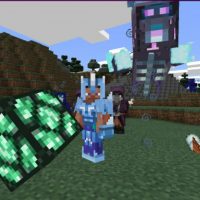 Cold Mod for Minecraft PE
Version MCPE: 1.14.0 - 1.20.40
Download
Download Cold Mod for Minecraft PE: try to resist the harsh climate that has spread throughout the cubic space.
What is interesting in the Cold Mod?
New challenges await players who install the Cold Mod. The entire surface will be covered with a thick layer of snow, grass, and ponds will freeze and it will be extremely difficult to find food.
Only the bravest Minecraft PE players will be able to cope with such severe tests.
Infinite Snow Biome
The authors of this add-on for Cold Mod decided to greatly complicate the process of survival. Now there will be only one biome in Minecraft PE. The entire surface will be covered with snow, and the reservoirs will freeze.
In such an extreme situation, it will be necessary to find food and build a reliable dwelling that will not only protect against the attack of aggressive monsters but also help to escape from the cold.
Ice Age
This time, Minecraft PE will also have a real ice age. There will be snow and ice everywhere, and the temperature will not rise.
This will create a special atmosphere and force players to come up with ways to survive. Fortunately, there are several new weapons and equipment in Cold Mod that players can find in the Inventory of Creative Mode.
Frosted Expansion
Eternal winter will come on the territory of Minecraft PE thanks to this update. Cold biomes will become even more dangerous due to the appearance of new creatures in them. Ice Creeper, Zombie, and Robber will become permanent inhabitants of these places.
By the way, previously unseen opponent of Steve will appear – a Cursed ghost, his health is equal to 600 units and he attacks the victim with fire projectiles. To face new dangers, players can use special weapons.
You can find it in caves or simply in the Inventory of the Creative Mode. Cold Mod provides access to updated biomes, where players will find a lot of interesting and dangerous.
How do I install this Cold Mod?

The file is in .mcaddon extension, so just tap on the file to automatically install the modification.

Can this mod be run in a multiplayer game?

Yes, for this it is enough just to be the owner of the map and install this modification on it.

What if the mod does not work?

Try to activate the experimental game mode.
Download Cold Mod for Minecraft PE