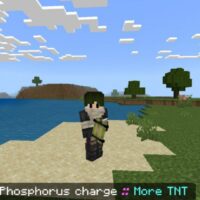 TNT Mod for Minecraft PE
Version MCPE: 1.16.0 - 1.20.41
Download
Download TNT Mod for Minecraft PE: arrange large-scale explosions, destroy blocks, and thus extract valuable resources, and you can also make fun of your friends.
TNT Mod for Minecraft Bedrock Edition
Minecraft PE add-ons from the TNT Mod series will help players facilitate the process of building or mining valuable resources.
Some of the types of explosives are very unusual, they can be thrown at the victim or forced to chase her.
 Weird
The author of this update for TNT Mod came up with the most unusual types of explosive blocks in Minecraft PE.
They are great for having fun with friends, but be careful, because it is still explosive and it can do a lot of harm.
20 TNT
Especially for fans of beautiful and spectacular explosions, the authors have created this update for TNT Mod. It is worth noting that all the objects that are presented in this set are completely new and do not replace the standard ones in Minecraft PE.
In addition to the fact that all options are presented in the Inventory of the Creative Mode, they can also be crafted in survival mode. Activating any of the explosive devices is quite simple, you only need a lighter for this.
The possibilities of the blocks are very diverse and their strength can increase by two, four, or even eight times. With their help, you can destroy the bedrock or freeze all the creatures around.
More
Even more, namely 25 new dynamite blocks, will be received by users who install this TNT Mod update. Everyone has different properties, so Minecraft Bedrock Edition players will have the opportunity to make fun of their friends and use them in the process of survival.
For example, a TNT Deformer can randomly move right before the explosion, and the Drill will drill a hole three by three blocks and will drop resources in the process. The block of green color, which is called the Hunter, will chase the nearest player. At the same time, to escape, the victim must escape from it before it explodes. Standard ways to destroy it will not work.
How do I install this TNT mod?

The file is in .mcaddon extension, so just tap on the file to automatically install the modification.

Can this mod be run in a multiplayer game?

Yes, for this it is enough just to be the owner of the map and install this modification on it.

What if the mod does not work?

Try to activate the experimental game mode.
Download TNT Mod for Minecraft PE