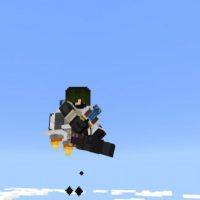 Jetpack Mod for Minecraft PE
Version MCPE: 1.17.0 - 1.20.32
Download
Download Jetpack Mod for Minecraft PE: use convenient and futuristic devices to fly in the cubic world and fly high in the sky.
What is interesting in Jetpack Mod?
Another type of transport was presented by the developers of Jetpack Mod. These devices are convenient and easy to use while allowing you to look at the gameplay from a completely new side.
Now Minecraft PE players will be able to fly high above the clouds and quickly evade the attacks of even the most dangerous opponents. And it is also a great way to see the whole space from an altitude view and try something new and unusual in the game.
 Mech and Jetpack
For fans of modern technology, the authors have created this update for Jetpack Mod. A special satchel allows players to easily climb to any height and thus quickly move around the territory.
In addition to these devices, players will have the opportunity to evaluate other devices. For example, a mechanized installation will allow you to effectively dig the ground in Minecraft PE and find valuable resources. Also included are a variety of vehicles, some of which are equipped with weapons. Exciting adventures and new experiences await everyone who installs this update.
Simple Jetpack
In the Inventory of the Creative Minecraft PE mode, players will find three types of jetpacks at once. They are available in three colors: blue, green, and red.
Remove the items and go to him to put them on. The controls will also be clear to any user, just jump up to climb up. Then by turning the camera, you can control the direction.
To get down to the ground, just press the squat button. The process of flying in a cubic world with Jetpack Mod goes to a whole new level. Now this option is available to every user. But you should turn on the Experimental Game mode to take advantage of all the features.
How do I install this Jetpack mod?

The file is in .mcaddon extension, so just tap on the file to automatically install the modification.

Can this mod be run in a multiplayer game?

Yes, for this it is enough just to be the owner of the map and install this modification on it.

What if the mod does not work?

Try to activate the experimental game mode.
download anchor
Download Jetpack Mod for Minecraft PE