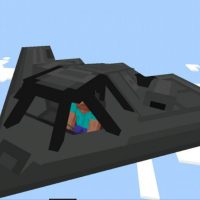 Flans Mod for Minecraft PE
Version MCPE: 1.14.0 - 1.20.15
Download
Download Flans Mod for Minecraft PE: use various military equipment, move around on tanks and fly fighter jets.
What is interesting in Flans Mod?
Flans Mod is a common name for all add–ons that have a military theme. Players can master various techniques and evaluate their capabilities. You can learn how to ride a tank, as well as repair and improve it.
Minecraft PE players will get a chance to fly real fighters and view the cubic world from a height.
Tanks
Any player who installs this update for Flans Mod can destroy an impregnable fortress with a single blow. The heroes will have three types of this military equipment at their disposal.
The developers tried to create a unique atmosphere, so they updated the background of the home page, as well as changed the color and appearance of the buttons. As soon as the player enters the field, a book with instructions will appear in his hands, following which you can get all the items.
Enter the command /function mbwt and new objects will appear in the slots, as well as the possibility of repairing and improving each of the tanks. Now no obstacles in Minecraft PE will be scary to players.
They will easily overcome any hills, irregularities, and unusual terrain.
Planes
The authors of this add-on for Flans Mod offer to go on a flight. Players will have eight aircraft at their disposal at once. All of them are available in the Inventory of the Creative Mode of Minecraft PE.
The Stealth fighter and bomber look especially impressive. The authors added animation of the landing gear and sound during the flight to all the cars. By the way, to get up in the air, it is enough to raise your head, and to go down – down.
Also, with the help of commands, you can get special missiles to attack the enemy from the air. And if you need to transfer a large number of passengers at the same time, use an airbus, which accommodates 34 passengers.
How do I install this Flans Mod?

The file is in .mcaddon extension, so just tap on the file to automatically install the modification.

Can this mod be run in a multiplayer game?

Yes, for this it is enough just to be the owner of the card and install this modification on it.

What if the mod does not work?

Try to activate the experimental game mode.
download anchor
Download Flans Mod for Minecraft PE