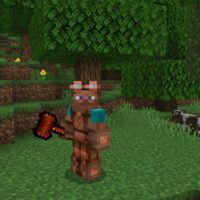 Tinker Mod for Minecraft PE
Version MCPE: 1.18.0 - 1.20.32
Download
Download Tinker Mod for Minecraft PE: get at your disposal a large number of various tools and blocks that will be useful for protection and construction.
What is unique in the Tinker Mod?
The standard set of tools in Minecraft PE is not too large and besides, it has not been updated for quite a while. Therefore, the authors of Tinker Mod decided to add a variety of items to the Inventory.
Players will be able to evaluate new options for equipment, weapons, and blocks. All of them will help not only in the process of survival, but will also be useful in construction and other activities.
Items
It is worth noting that Tinker Mod adds a really large number of different items to the game world. To understand them, it is recommended to first familiarize yourself with a special book with instructions.
In this edition, Minecraft PE players will be able to use other useful objects besides the standard workbench. For example, a table of templates for creating various models or a table of details.
Players can also create unusual tools, such as a cleaver or a hammer, at a special forge.
Opportunities
Truly unlimited possibilities are provided by this add-on for Minecraft PE players. They will also be able to repair weapons and tools, this will require an iron ingot.
It is worth noting that all improvements will be lost in this case. Unusual objects can be found in the Tinker Mod inventory. For example, a frying pan is used to slow down enemies.
An iron hammer and a digger will allow you to extract snow and earth in large quantities. Also, a woodcutter's axe is perfect for extracting wood, and a cleaver will cope with a group of enemies at once.
New ores will be generated in the Lower World – Cobalt, Ardite, and Manyullyn. The weapons created from them will differ in greater strength and attack speed.
How do I install this Tinker Mod?

The file is in .mcaddon extension, so just tap on the file to automatically install the modification.

Can this mod be run in a multiplayer game?

Yes, for this it is enough just to be the owner of the card and install this modification on it.

What if the mod does not work?

Try to activate the experimental game mode.
download anchor
Download Tinker Mod for Minecraft PE