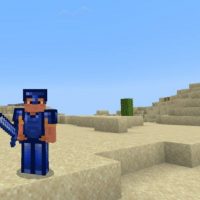 Sapphire Mod for Minecraft PE
Version MCPE: 1.14.0 - 1.20.15
Download
Download Sapphire Mod for Minecraft PE: change the image of your hero, thanks to new equipment options made of very beautiful and durable material.
What is interesting in Sapphire Mod?
The authors of Sapphire Mod offer players to diversify the standard set of armor and weapons in Minecraft PE. Sapphire has a beautiful blue color and also has excellent protective properties.
In addition to this resource, ruby, iridium and many other incredible materials will be available to players. With the help of these items, their owner will become more visible on the battlefield and will be able to fight more successfully with a variety of opponents.
 Sapphire
To find new valuable resources on their own, Minecraft PE players will have to go very deep underground. Some of them are found only after the fortieth level, while others are even lower.
You can simplify your task by simply using the Inventory in Creative mode. There players will find several types of armor made of sapphire, ruby, and iridium. It is also suggested to use swords in addition to them. The most powerful of them in the Sapphire Mod is Excalibur. It includes the effects of all the listed resources.
Each of his blows deals 2,000 units of damage to the enemy at once. None of the currently existing variants of weapons in the cubic world has such indicators. Another way to get items or armor is by entering special commands /function.
Sapphirion
Items and weapons made from the new mineral have a unique appearance and excellent protective characteristics. They are also quite strong, for example, an axe has an indicator equal to 100 units.
After installing the Sapphire Mod, a new ore of bright blue color will appear throughout Minecraft PE. A sword made from it deals 12 points of damage to the enemy with each blow. Use new opportunities, become stronger, and defeat absolutely any opponents.
How do I install this Sapphire Mod?

The file is in .mcaddon extension, so just tap on the file to automatically install the modification.

Can this mod be run in a multiplayer game?

Yes, for this it is enough just to be the owner of the map and install this modification on it.

What if the mod does not work?

Try to activate the experimental game mode.
download anchor
Download Sapphire Mod for Minecraft PE