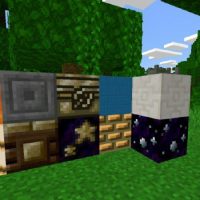 Chisel and Bits Mod for Minecraft PE
Version MCPE: 1.14.0 - 1.20.32
Download
Download Chisel and Bits Mod for Minecraft PE: show your creativity, and use new types of blocks that will be useful in the process of construction and decoration.
What is interesting in the Chisel and Bits Mod?
People started using various tools a long time ago. With their help, you can not only extract useful resources but also give them fancy shapes or even apply a drawing.
Chisel and Bits Mod will add a large number of new options to the standard set of blocks that already exist in Minecraft PE. This is especially suitable for those users who want to create their own unusual space.
Now players will be able to show all their creativity and create something unusual and unique. Use all the opportunities to show all your imagination.
Chisel
After installing Chisel and Bits Mod, the inventory of the Creative Mode will be replenished with a huge number of new blocks. Some of them will be an improved version of those already existing in the cubic world.
Others will turn out to be an absolute novelty for Minecraft PE. For example, marble, prismarine, or andesite. By the way, incredible modifications of the glowing stone can be used to illuminate the space.
Players will be able to transform an ordinary building using Space Diamond or Encased Magma Bricks. Absolutely all elements have a beautiful texture and will allow you to create incredible masterpieces.
Construction opportunities
The main feature of this Chisel and Bits Mod will be to start using new blocks. Players will not have to craft or mine them in any way. Everything you need will already be at hand.
Players only need to start fantasizing about creating a new masterpiece that will amaze everyone around with its uniqueness and beauty. Unusual textures and interesting designs will allow you to use them for all kinds of ideas.
Such features are unique to Minecraft PE. Rather, install the update and use them right now.
How do I install this Chisel and Bits Mod?

The file is in .mcaddon extension, so just tap on the file to automatically install the modification.

Can this mod be run in a multiplayer game?

Yes, for this it is enough just to be the owner of the card and install this modification on it.

What if the mod does not work?

Try to activate the experimental game mode.
download anchor
Download Chisel and Bits Mod for Minecraft PE