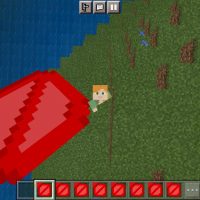 Slots Mod for Minecraft PE
Version MCPE: 1.16.0 - 1.20.15
Download
Download Slots Mod for Minecraft PE: complicate the survival process, and limit the number of resources available for use to just one.
What is interesting in Slots Mod?
The skill and skills of Minecraft PE users are constantly improving, but at the same time, dangerous creatures do not change. Accordingly, the gameplay becomes less interesting and attractive for them.
Therefore, the authors of Slots Mod have solved the issue cardinally. They removed all the slots from the quick access toolbar and the chest, except for one. Try to survive in an environment where any wrong move can cost the player his life.
Rational use of resources is sure to be useful to any user in the process of game tests.
New challenges
Each addition is designed to either add something new to the gameplay or make it more interesting. Another option is to complicate the most ordinary processes. This is the path taken by the creators of Slots Mod which offer Minecraft PE players to test their skills in very limited conditions.
It is worth noting that only the most experienced players can overcome such a test. But on the other hand, it will be a great chance to get a new gaming experience and test your capabilities.
Unblocking
The creators of Slots Mod have provided the possibility of unlocking two slots. In the first case, iron ingots in the amount of eight pieces will be required, as well as a workbench. To unlock the third window, you need to surround the received item with eight emeralds.
Try to survive with almost no inventory, and use all resources very rationally. The world of Minecraft PE is changing every day and any skills will be useful to players during the game.
Such sophisticated ways of complicating survival will make the game world very interesting. Experiment with various additions and develop your abilities.
How do I install this Slots Mod?

The file is in .mcaddon extension, so just tap on the file to automatically install the modification.

Can this mod be run in a multiplayer game?

Yes, for this it is enough just to be the owner of the map and install this modification on it.

What if the mod does not work?

Try to activate the experimental game mode.
download anchor
Download Slots Mod for Minecraft PE