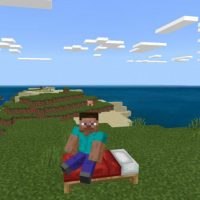 Sit Mod for Minecraft PE
Version MCPE: 1.13.0 - 1.19.83
Download
Download Sit Mod for Minecraft PE: teach your hero new actions, he will be able to sit, lie down and even crawl, as well as carry animals in his hands.
What is unique in the Sit Mod?
With this update, the gameplay will become much more diverse, thanks to the appearance of new animations and movements. For example, now Steve will be able to sit on a chair or any other block, fully lie on the bed or near the pool.
Sit Mod will also allow you to learn how to crawl and carry any mobs on your hands. Use the new functionality in Minecraft PE to surprise others with unusual skills. Use new opportunities right now.
Simple Sitting
In order to take advantage of the capabilities of this addition for Sit Mod, it is enough to enter just one command /function sit. After that, the player will change his position and will even be able to lie on the bed. To do this, after entering the command, click the sneak button.
This is a great opportunity to relax after a long day and add realism and naturalness to the gameplay. Install various pieces of furniture in your home in Minecraft PE and use them for their intended purpose.
More Actions
Even more, features are provided by this add-on for Sit Mod. The player will have four new animations at once, which will undoubtedly diversify the gameplay and make it even more interesting.
First of all, it is worth noting that no commands will have to be used. There is also no need to craft any additional devices. After installing the addition, all movements in Minecraft PE will occur automatically. There are four functions to choose from in total:
sit – point the camera down and press the sneak button;
lie down – the same as in the previous case, but you need to look up;
crawl – squat and start moving forward;
carry mobs on your hands – you need to approach the object, squat, and then jump.
How do I install this Sit Mod?

The file is in .mcaddon extension, so just tap on the file to automatically install the modification.

Can this mod be run in a multiplayer game?

Yes, for this it is enough just to be the owner of the card and install this modification on it.

What if the mod does not work?

Try to activate the experimental game mode.
Download Sit Mod for Minecraft PE