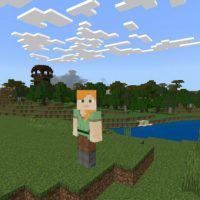 Gravity Mod for Minecraft PE
Version MCPE: 1.2.0 - 1.20.31
Download
Download Gravity Mod for Minecraft PE: feel the freedom from gravity, and also have fun lifting different mobs into the air.
What is interesting in Gravity Mod?
As you know, in Minecraft PE, the movements of any creature, including the player, are subject to the laws of physics. The authors of Gravity Mod decided to cancel this rule and decided to get rid of gravity altogether.
Now it will be possible to send any mob, including an aggressive one, into free flight. Explore new features of the game right now.
Reduced Player Gravity
As you know, in the very first versions of Minecraft PE, the player moved quite slowly. The authors of this add-on for Gravity Mod offer players to remember these times and feel the ease of movement.
Now the jumps will become much higher due to the lack of attraction to the surface.
Gravitation Begone
The authors of this add-on for Gravity Mod offer to make the gameplay much more interesting. Players will move like astronauts on the surface of the moon. At first, such movements in Minecraft PE may seem very unusual and even inconvenient.
But if players get used to it, they can use the opportunity to jump higher and further to their advantage.
Gun
Despite the name of the item that this update will add to Minecraft PE, it is not a weapon per se. Although after the fall, the creature lifted into the air is likely to die.
The mechanics of use are quite simple. It is enough to find a gravity gun in the Inventory of the Creative Mode. Then point at any mob and hold it, lift it. At the same time, the player will hear a characteristic sound.
Thus, it is possible to prevent the attack of an aggressive monster. Gravity Mod provides players with unprecedented abilities that, with skillful handling, can help in the process of surival. Or just surprise your friends and have fun together.
How do I install this Gravity Mod?

The file is in .mcaddon extension, so just tap on the file to automatically install the modification.

Can this mod be run in a multiplayer game?

Yes, for this it is enough just to be the owner of the card and install this modification on it.

What if the mod doesn't work?

Try to activate the experimental game mode.
download anchor
Download Gravity Mod for Minecraft PE