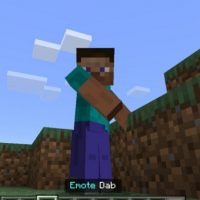 Emotes Mod for Minecraft PE
Version MCPE: 1.19.0 - 1.20.32
Download
Download Emotes Mod for Minecraft PE: make the gameplay more realistic, and the movements of the hero more emotional, and have fun with friends.
What is interesting in Emotes Mod?
You can add variety to the movements of the player, and make them interesting and unusual with the help of Emotes Mod. Using special items, users can express dissatisfaction or joy. Be sad or show their attitude to the situation.
It is worth noting that nothing like this has ever appeared in Minecraft PE before and every player should try these functions. You can make Steve practically a living person who can feel and express his emotions right now. The mechanics of using it are as simple as possible.
Emotes Item
By opening the Inventory of the Minecraft PE Creative Mode or registering the c/emotes command in the chat, players will receive a new item. Open it to access the menu in which users will select emotions.
It is worth noting that there are a lot of options and all of them will be appropriate in one situation or another during the gameplay. Surprise others with unique opportunities and, thanks to this, be the center of attention.
Emotes Mod allows you to expand the possibilities and try something new. Make the world around you more fun and adventures unforgettable.
Free Fire Emotes
The new animation features that appear after installing this update for the Emotes Mod may be familiar to users from the game Fire. Provided that the Creative game mode was selected when creating the world. Unusual items will appear in the Inventory. Where various movements are depicted on a black background.
Take any of them in your hand and press the sneak button. Watch how the player moves. His arms and legs will become more plastic, now he can dance, perform various tricks, and even conjure. The world of Minecraft PE will never be the same again.
How do I install this Emotes Mod?

The file is in .mcaddon extension, so just tap on the file to automatically install the modification.

Can this mod be run in a multiplayer game?

Yes, for this it is enough just to be the owner of the map and install this modification on it.

What if the mod does not work?

Try to activate the experimental game mode.
download anchor
Download Emotes Mod for Minecraft PE